Make A Donation
With hat in hand, we are asking you, dear reader, to consider making a contribution to keep alive this voice of compassion, social justice, simple living and prophetic critique (we hope).
UPDATE: Good news, we're over half way to the $8,000 goal. Campaign extended to include July. We only ask 2x/year. Donor support is our foundation. Please give what you can.

Incentive: Give $50 or more and get a FREE 10th-anniversary issue of Geez.
Dear Reader,
This is our annual mid-year appeal for financial support. As you may know, we receive no money from the sale of ads in our magazine. Only a small portion of our budget comes from occasional grants for special projects. The rest comes from people like you: readers, subscribers and monthly donors.
Geez gets praise for good business
A top-tier consultant from Toronto came to Winnipeg for a day-long session on how to make our magazine a better business.
Consultant Sharon McAuley praised our board and staff for the clarity of our financial statements and the smart decisions we made to survive a difficult year in 2015. She was also impressed by the keen energy we brought to the table.
She said, "You are a great magazine, in search of a market."
Need for outreach is critical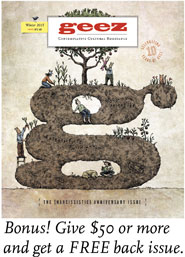 On the one hand, our content remains strong (or at least we're proud of it!). On the other hand, not enough people know about this award-winning magazine for people who care about spirituality, social justice, art and activism.
Your financial support enables us to amp up outreach. With the help of interns, we are building three lists of prospective subscribers: queer-affirming church leaders, Catholic Worker houses, and intentional communities. We also have plans to increase our online presence, connect with libraries, and reach out to independent bookstores.
Urgent mid-year appeal
Please consider making an extra donation to help support these initiatives. Our first-quarter report shows a cash-flow slump. Please help us show a strong first half of 2016.
Our goal is to raise $8,000 by the end of June — now extended to include July.
Just a reminder: as a reader-supported, ad-free magazine, almost half of our $91,000 budget comes from your one-time contributions or automatic monthly donations.
We only make this appeal twice a year, in June and December. So please give now what you can. Use the buttons and boxes above.
Geez Monthly Donors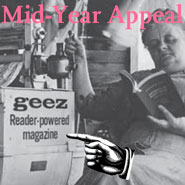 The best way to support this project is with automatic monthly contributions. Donations as little as $5 or $10 per month help regulate our income, save on renewal efforts and you never have to worry about renewing. You get a free subscription to Geez magazine and no more renewal notices or invoices.
Just click on a donation level, select "monthly" from the donation frequency, and proceed to checkout, we'll take care of the rest. Please see fine print below*.
Worthwhile mission
Any contribution is welcome, even large ones. Please consider supporting this mission, this ministry, this effort to change the world, or at least the problematic ideas that lead to violence and injustice.
Aiden Enns, editor and founder
Geez magazine
You can also donate by phone — have your credit card handy and call us at the office: 1-204-942-1058.
*Fine print: You may change or cancel your monthly contribution at any time by contacting Geez at 1-204-942-1058, or subscriptions@geezmagazine.org. We will contact you when your credit card is up for renewal.