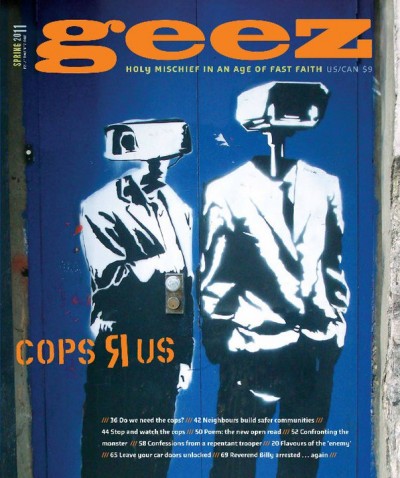 We resent the invasion of privacy, the feeling of being watched. Yet we, the privileged ones, with our material and cultural goods, need a sense of security. Hence we consent to the constant presence of police.
Surveillance culture can be enjoyable. Cool, a satellite camera zooms in on our house. Nifty, we can take a virtual tour down our street, down any street.
But wait, all this snuggling with Mr. Surveillance, have we adopted the ways of The Powers That Be? Now we have a problem. Could there also be a police presence in our heads?
Regulars
Confront 'those in power' with compassion


6

Sinner's Corner: Coffee Addiction


12

Get tough on your own crime


13

The pastor's wife: No one wants to steal Jesus


24

Culturosities
Artifacts: T-shirts with Slogans


14

Subverting Police Graffiti


15

Old Geezers: Dorothy Day


16

Flavours of the 'enemy'


18

Cinema Politika: How to 'screen truth to power'


19

Cops R Us
With everyone watching


23

How to cultivate criminality


26

My shoplifting experienceis fairly limited


27

Our incarceration culture


28

How American securitypropagated my internationalinsecurity


30

Rocking the boat: A briefhistory of anti-migranthysteria in Canada


31

Skateboards, gang beatings and trouble with the law


37

Detained: Securing territories and policing for profit


38

Neighbours build safer communities


40

Stop and watch the cops


42

But after the gig


52

Confessions from a repentant trooper


56

Our greatest threat


58

Poetry
We are trees


61

Experiments
Illegal Eden


62

No More supermarket Produce


62

Taxing the tank


63

Makeshift: a year of handmade clothes


64

The Sound of Silence


65

Winter Cycling


65

Civil Disobedience

A dead DREAM

66

Airport opt-out

66

Reverend Billy arrested .?.?. again

67

Britain's upper-middle class students unite

68

Work for peace. Stop paying for war

69

School of assassins

69

News

Wikileaks


70

Canadian flotilla raises concerns, mail


70

Website responds to catcalls


71

Children taught good food sense


71

Park dream becomes reality


72

Human rights group calls foul over police raid


72

Indecent proposalThe Modesty Survey


73

Reviews
The Coke Machine: The Dirty Truth Behind the World's Favourite Soft Drink


74

Mobilizing Hope: Faith-Inspired Activism for a Post-Civil Rights Generation


75

The Story of Stuff


76

Googled: The End of the World as We Know It


76

The Age of Persuasion: How Marketing Ate Our Culture


77