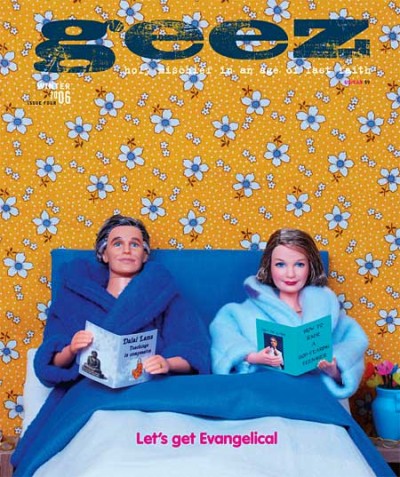 Buy for $5.00
From slogan-laden key fobs to syrupy presidential prayer breakfasts, they're out to convert. After all, they've got what we need.
And they're reaching a critical mass; a critical, political, militaristic, moralistic, consumeristic, evangelistic and sometimes apocalyptic mass.
It's time to engage those evangelicals out there (and address the evangelical within).
Salvation in ill-fitting pants


18

Squirm and worship


24

Surprise


28

To radical politics and back


31

Where the evangelists are


32

Notes from the evangelical underworld


40

Top 10 reasons Geez gets up my nose


44

I have an answer


45

Heal me


46

Sidewalk Messiahs


50

Welcome to the hinterland


56

A jealous Buddhist in God's Orange County


58

Fundamentalists win arguments


66

Former fundie


68

Blessed are the ...queers?


70

The life of a nutshell

72

Franklin Graham comes to town


74

Manifesto for ex-evangelicals


76

How a faithful nation gets Jesus wrong


80