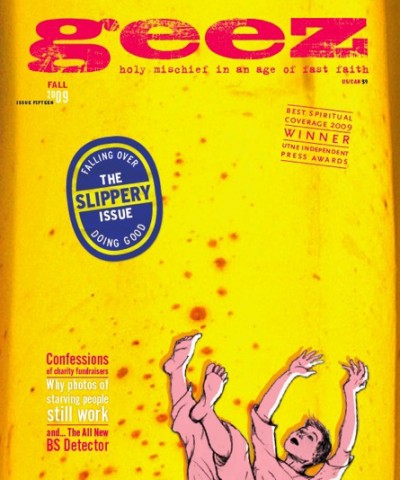 Buy for $5.00
Ahhh, we're falling over doing good. Read confessions of a charity fundraiser; why photos of starving people still work; and, this just in, the All New BS Detector.
In this issue we're focusing on the way words and images are used in the realms of faith and good causes.
We start by looking at ways in which faith organizations, social change movements and NGOs sometimes slide their words and images down a slope toward deception and manipulation.
Then we move into a greyish zone, where pros and cons are aired openly, where conclusions are not offered on a platter and where no one is trying to sneak into the back door of your consciousness to get to your wallet. The colour grey is not always the best — there's a time to speak with single-minded passion and conviction — but the honesty and humility required by the grey zone seems to be in short supply these days.
Finally, we offer a diversity of ways to move away from slick, prescriptive, agenda-laden use if words and images toward a more imaginative, liberating and honest discourse.
The ethics of slick

Make a difference TODAY!: Reflections of a fundraiser


16

Religious satire: Path to truth or smug peanut gallery


38

A good kind of slippery: From skeptical to reparative reading


74

The space for poetry


71

Hot pop feminist mag


65

On watching good bad movies


61

The ethics of vision: Photojournalism and human rights


47

Liturgical language as antidote to consumerist chaos


72

Complicity in the cycle of poverty


18

Sympathy for the poverty peddler


19

Leaving the garden


20

pt1: Too slick for their own good
The 'Other' problem is deep


26

How to watch a documentary


27

why does life seem so small


31

pt2: The rigour of the grey
Abdul Ali


32

Blessed are the poor... and the rich


37

pt3: Responding to spin
The temptation of truth


52