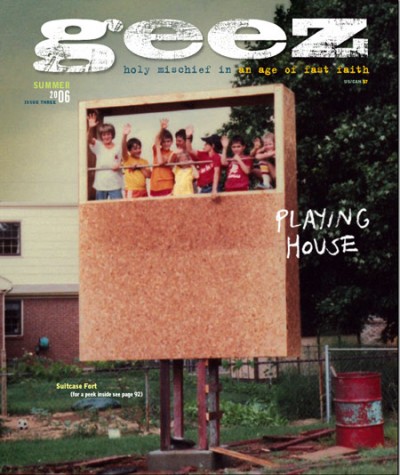 Buy for $5.00
Our buildings are thoughts, words, theories and entire philosophies crystalized for a brief time into a physical form that reveals what's on our min and what's not.
When done right, buildings are a kind of dialogue with nature and our own deeper, sensual nature. The sights, smells, texture and sounds of the built environment evoke memories, initiate streams of thought, engage soothe, provoke, bind or block abilities.
When done badly, the result is the spiritual emptiness characteristic of a great deal of modern design that reveals, in turn, a poverty of thought, perception and felling manifest of ugliness.
Design: Part 1


8

Examen -- An invitation to notice life


12

Surveillance


16

Prado Cafe


20

From Turtle Island to Fortress North America


18

The urban landscape of Jeff Thomas


20

Packaged public space


22

Adventure playground


28

Confessions of a shelter porn addict


32

Equity tunnel vision


34

Glass


40

Cochrane, Alberta (Poetry)


41

A sixty-mile wedge


44

The holy building


48

The Worship Centre Church


47

Design: Part 2

55

A billion squatters and growing


60

She built a cabin in the bush


62

Open-ended utopia: The art of Rirkrit Tiravanija


64

Faith in an age of climate crisis


68

Staying put


71

Renovation journal


72

Maps (Poetry)


76

Refuge and asylum


77

Anathoth Community Farm


78

St. Hilda's House


82

Home Sweet Home


83

God knows where


84

Tiny house


91