Just as I am.
Issue 1, Fall 2005
→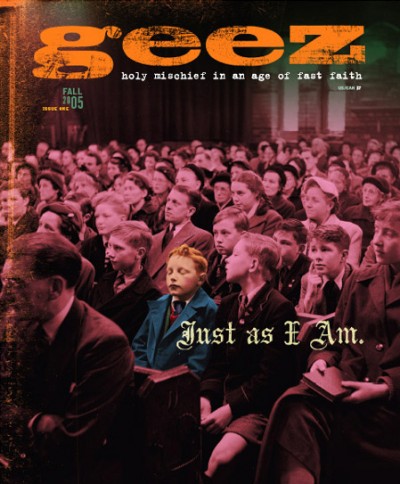 Buy for $5.00
What if the aisle swings out the side door — into the back alley, a forest, a kitchen, a cabbage field?
What if it forks, or spirals, or heads over a cliff at the front of the church?
What if you go the wrong direction?
This is an alter call for folks at the fringes of faith.
IMPORTANT NOTE: we only have coil bound copies of this issue. It's all the same magazine, but without the groovy spine. If you want that please order this.
Prank


6

Alter call


10

Victoria falls


17

Circumcise your scriptures


19

Cult


20

Sin in Kentucky


27

John Francis, planet walker


31

George Bush saved my life


32

Quaint, plain and unexpected


34

Divine intervention


36

The dollars were nice


38

Network of spiritual progressives


40

Michelle Shocked on Africa, the altar and the believing mind


48

Rock star with a cause


52

Live war in concert


54

Your best years


56

Birches (poetry)


57

Alter calls


62

A call to all


64

HIghland home for adults


70

Let us bow our minds


73

beyond justice


74

Conversion


76

I'm not sure why I am going to Dajabon


77

An inside job (Poetry)


83

Garbage simplicity


84

Become a neo-nun


86

Do-it-yourself home alter


87