Christian Peacemaker Teams
Haudenosaunee Hunt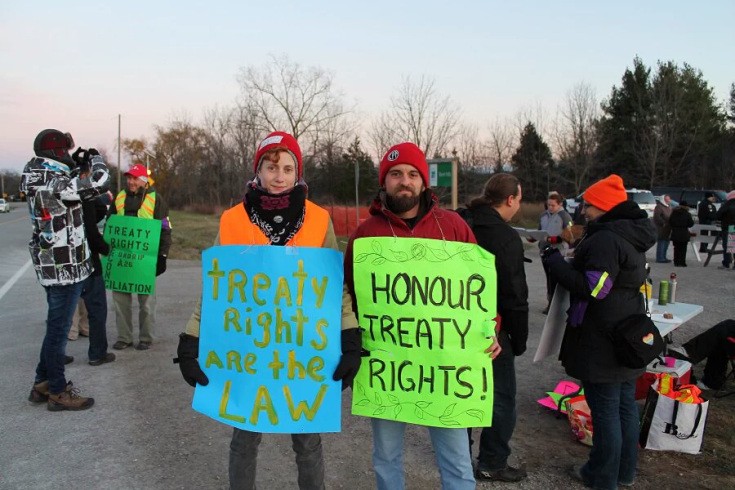 For three consecutive weekends in November and December, the CPT Indigenous Peoples Solidarity team joined settler allies to accompany Haudenosaunee hunters as they fulfilled their treaty rights to hunt in Short Hills Provincial Park.
The allies served as a protective barrier between animal rights groups, who refuse to recognize that the Haudenosaunee have hunting rights under treaties made with European and Canadian governments.
The vegan, animal rights protesters stereotype the hunt as "barbaric" and "primitive." However, overtly offensive verbal harassment was more restrained this year, because many more allies showed up than in the previous two years – including a number of vegan allies, who wrote and spoke eloquently about how respecting Indigenous treaty rights was healthier for the planet than a consumer-driven vegan lifestyle.
Still, CPTers needed to remind the police that it looked like they were doing the bidding of the protesters, when they stalled each vehicle entering and exiting the park. The purported reason for the stalling was "safety," but, as CPTers point out, given that the Haudenosaunee had been hunting most of the night, it would be safer for the police simply to let the hunters return to their homes.
Haudenosaunee supporters this year offered a "Peace food table" with vegan options where hunt supporters and hunt protestors could gather and talk. Perhaps the most meaningful experience happened on November 15, as the team wrote in a Facebook post: "This evening as we gathered to welcome the hunters, we were joined by strong singers and drummers, the energy of children and wisdom from elders. The existing paradigm of the anti-hunt protest was overturned through the powerful sharing of song, dance and joy! Pictures can't really convey it (especially as the darkness came in and people stopped taking pictures and started dancing). This is what solidarity looks like."
Kathy Kern is the CPT page editor for Geez magazine.