Walmart workers unite!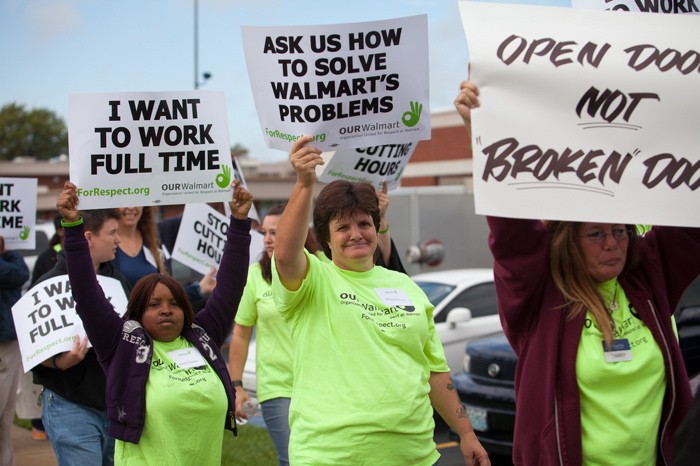 A wave of protests hit retail giant Walmart on Black Friday – the busiest shopping day of the year in the U.S.
Workers and their supporters demonstrated at more than 1,000 stores across the country. Wearing lime green shirts that read "How the 1% Hurts the 99%," protesters chanted, marched, threw flowers and held signs that said things like "Live Better, Invest in People" and "Can you live on $8 an hour?"
In Paramount, California nine people including three Walmart workers were arrested after they blocked traffic by sitting in the southbound lanes of Lakewood Boulevard.
Matha Sellers, a protester and one of Walmart's 2.4 million employees, said that the working conditions in her store need to be changed.
"Sometimes you're on the register for three hours or four hours without a break. We just keep getting, 'Do this, do that,'" she told the Press-Telegram in Long Beach, California. "So it's time for Walmart to stand up and say, 'OK, we're doing wrong.' I'm protesting to make them acknowledge that they're doing us wrong. It's time."
Sellers, who has worked as a cashier for nine years, makes $13 an hour, but she said it's not enough to live on.
"I can barely make my rent," she said. "Now the scary part comes tomorrow when I go back to work."
The nationwide protests were backed by the United Food & Commercial Workers (UFCW) union. Max Bruny, from UFCW Local 888, was at a protest in Secaucus, New Jersey. He said more and more people are starting to understand what's at stake.
"The nation is finally catching up with what's going on at Walmart. It's one thing to say 'low price, low price, low price,' but there's a price to the low price."
Walmart officials claim that most people at these protests were union supporters and not employees of Walmart.
Steven V. Restivo, Walmart's senior director of community affairs, said Walmart's "pay and benefits plans are as good as or better than our retail competitors, including those that are unionized."
Sources: democracynow.org, presstelegram.com, guardian.co.uk