Positive peace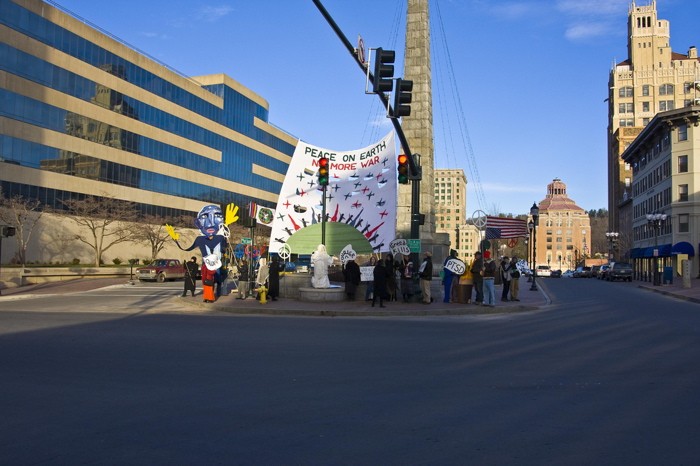 This issue began with a question from John Siebert at Project Ploughshares: where are all the peace activists?
He challenged us to make an issue to stir a new generation for peace.
We sent out a pitch call asking these questions: "What ever happened to peace activism? Nuclear warfare looms, yet despondency rules the day. Are we numbed by info on injustice? Has Facebook taught us it's okay to care without lifting a finger?"
I'm interested in peace – I took peace studies in university; I go to the peace walks, vigils and demonstrations (sometimes); I edit a social-justice magazine. While I feel far from radical, I do have an affinity with peace activism. Still, I've had a hard time getting excited about this issue.
Maybe it's the tone we set from the start, describing our times as apathetic. Or it could be because my term at Geez is coming to an end.
Either way, I keep wondering if peace is just boring. Is it a modern concept that doesn't hold up in postmodern culture, where it seems we are always at war yet also always living in a time of peace? I am so far away from a woman in Afghanistan or a Yemeni prisoner on hunger strike at Guantanamo Bay. I'm also far away from Canadian and U.S. military personnel in combat. War seldom touches my everyday middle-class life.
What about the upsurge of activism in recent years, for example Occupy and Idle No More? Aren't these peace movements? If you read the Civil Disobedience and News sections at the back of this issue, you'll find examples of what North American activists are up to, and it's far from boring. A broader definition of peace, sometimes called "positive peace," includes actions like these.
The problem for the peace movement is helping people see that their concerns about climate change, human rights abuses or economic inequity are deeply related to militarism, violence and war. Since it doesn't feel like we're at war even when we are, and since our children don't have to dive under their desks at school to practise for a nuclear attack (although they do rehearse lockdown in case of a school shooting), peace seems less important than it used to.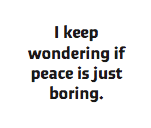 John pointed me to a blog post written by Lydia Wylie-Kellermann for Disarm Now Ploughshares, a radical Christian anti-nuclear group (see her piece for Geez on page 67). She makes a case for why young activists of all kinds should be concerned about nuclear weapons by tracing linkages with poverty, imperialism, globalization and environmental degradation.
She closes with an affirmation: "I choose to stand for what brings healing, joy and life to all people and to the world. Therefore, I cannot and will not ever condone the existence of weapons designed and created to mass murder people and the earth."
All of us who nurture life – through protection of endangered species, through caring for children, animals and other living creatures, through community gardening or volunteering at a food bank – understand this affirmation. We see signs that the broader peace movement is active all around us and people do care about making a more peaceful world.
Thank goodness for the editorial and design team who kept the ideas coming and the enthusiasm flowing for this issue – Aiden Enns, Darryl Brown, Katie Doke Sawatzky, Tim Runtz, James Wilt, Miriam Meinders and others. And for an encouraging meeting with my old peace studies professor Rick McCutcheon, who pointed to the signs that peacemaking is happening all over. Thanks to Project Ploughshares for supporting us with the purchase and distribution of magazines.
And, personally, I'll say thanks to you, Geez readers, for a fun and challenging time editing the magazine. I'm set to take some time off and figure out what's next for me. Take care.
Melanie Dennis Unrau is editor of Geez magazine. She lives in Winnipeg, Manitoba.