Riding Humbly with God and Others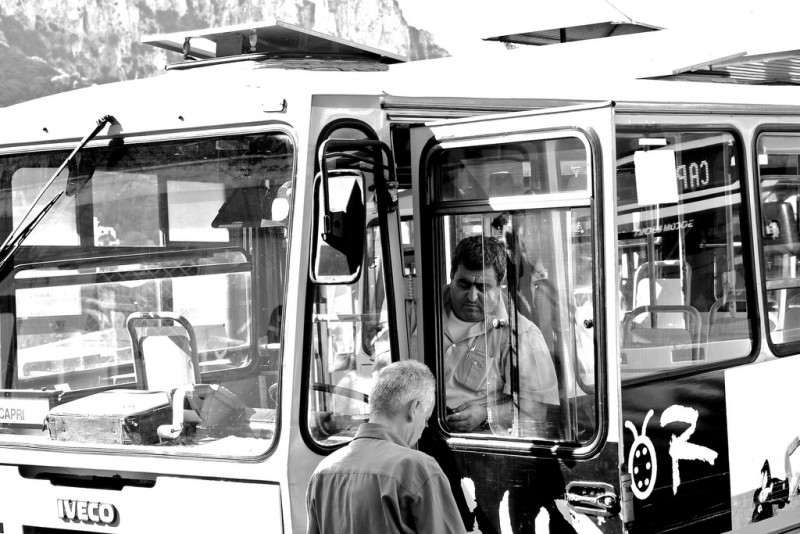 The first time someone told me they wanted to stop driving so they could preserve the environment, I tried to smile. I was learning I couldn't refuse relying on vehicles for transportation.
I'm legally blind. I admire those who don't drive or own cars to better care for land and water, but not everyone has this physical privilege.
I want some people to drive because I may need a ride to church, although I prefer taking transit. There, I can (sometimes) be alone in the crowd, be independent. I lived in the Yukon for a year. The untamed wilderness calls out to many – strongly. It also meant I spent every weekend telephoning friends for rides; buses didn't run on Sunday. It got exhausting, really. That's why I live in a city now – exhaust fumes make me gag, but at least they remind me I have more options for getting to church.
As a passenger, I hold my white cane as a sign of surrender to the truth I am a created, finite being. I need the gifts of God, often other people.
Sometimes though, I wish he had an exchange policy. My requests for rides logically raise questions about why I need them now – and always will. Some people say they'll pick me up if "worst comes to worst." I'd rather spend hours walking or on buses than a minute being driven by self-professing Christians who think it's burdensome.
Arriving at church late because you overslept can be embarrassing. Missing it because someone forgot they promised to drive you can be devastating. But if I sit in hurt too long, I miss the welcome of Jesus: both the welcome he gives me, and the hospitality he commands I show, even when answering questions for the thousandth time, or listening to people's assumptions about my life and faith.
I spent a summer working in Saint John, New Brunswick. I lived between the Bay of Fundy and a church. Shortly after I arrived, the upcoming church picnic was announced – at a camp about a half-hour's drive from the city. Plans included something I'd never seen: a sign-up sheet asking who needed transportation.
No explanation was required. I only had to admit my need and accept the gift.
When a clumsy kayak ride soaked my jeans and socks, I experienced another baptism of sorts. Heaven did not open, the Spirit did not descend.
But the offer of a ride showed me I am a beloved child of God.
One of Meagan Gillmore's favourite times of the week is her subway ride to church on Sunday mornings. She likes to spend her time on Toronto's public transit prayerfully reading, writing, watching, and listening to the people around her as she readies for worship.