Civil Disobedience
Climate Change Protests Proceed in Paris Despite City-wide Ban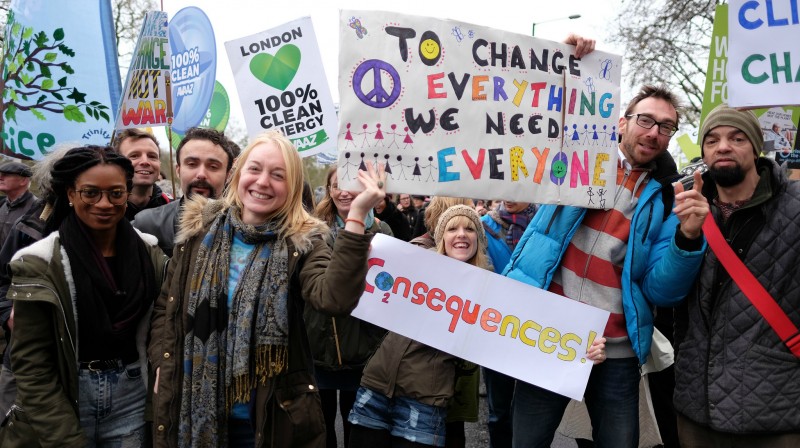 In the wake of the Paris attacks in mid-November, the French government implemented a ban on public gatherings for security purposes for the duration of the 2015 United Nations Climate Change talks, hosted from November 30 to December 12.
Regardless, up to 10,000 people defied the ban in an attempt to maintain pressure on government officials negotiating a global climate change deal. Activists came from all around the world: the Irish Times reported the final march featured opening songs from Amazonian Indigenous people, Inuit from Greenland, and tribal chiefs from Papua New Guinea. Protestors at that march also lifted large red banners to symbolize the "red lines" they thought the representatives should not cross in the negotiations.
Many marches included elaborate costumes, like a 10-person "polar bear army." In addition, over 80 artists installed 600 fake ads around Paris: one parodied a Volkswagen bus stop poster with Adbusters-like flair, but writing "we're sorry that we got caught," referencing the recent emissions scandal. Environmentalists placed over 10,000 pairs of shoes in central Paris to symbolize the protesters who would have attended if it wasn't for the ban.
Meanwhile, Truthout reported that an arts collective called the Zoological Ensemble for the Liberation of Nature showed up at a Volkswagen dealership in Brussels dressed up as monkeys, trees, sheep, and fruit, chanting "We are nature defending itself!" In addition to the activities in Paris, many people gathered in cities around the world to protest: The Guardian estimated that some 2,000 protests were held in some 150 countries during the course of the negotiations.
Nearly 200 countries signed the the first legally binding global climate deal. United Nations Secretary General Ban Ki-Moon dubbed the deal a "monumental success for the planet and its people," according to the Toronto Star. Bill McKibben of 350.org concluded in a New York Times column, "what this means is that we need to build the movement even bigger in the coming years, so that the Paris agreement turns into a floor and not a ceiling for action. We'll be blocking pipelines, fighting new coal mines, urging divestment from fossil fuels – trying, in short, to keep weakening the mighty industry that still stands in the way of real progress."
James Wilt is the Civil Disobedience editor for Geez magazine. Contact him with ideas or feedback at civildisobedience@geezmagazine.org.