Catholic Worker
Plowshares: The Next Generation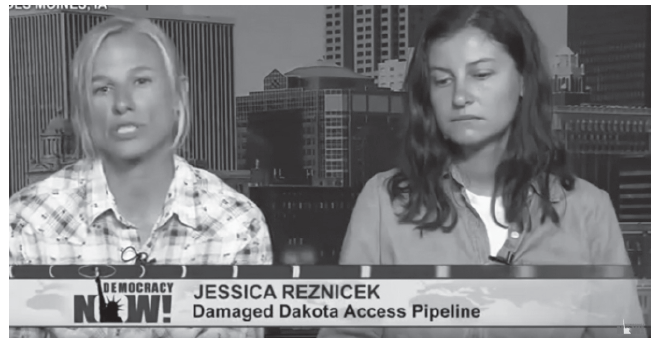 Over the course of six months, Catholic Workers Jessica Reznicek, 36, and Ruby Montoya, 27, secretly carried out multiple acts of sabotage and arson in attempts to stop the completion of the Dakota Access pipeline.
In late July 2017, Reznicek and Montoya held a press conference in Iowa and took responsibility for these actions. The women – members of the Phil Berrigan House in Des Moines – placed their actions within the Plowshares tradition and argued that environmental activism is the next chapter of the movement.
On election night of 2016, the duo went to a Dakota Access pipeline easement site in Buena Vista County, Montoya said in an interview on Democracy Now!
"[W]e saw over six or seven pieces of heavy machinery there. And we went with our supplies, and we filled these coffee canisters up with gasoline and oil. We placed those coffee canisters on the in- side of the cabs of these heavy machinery, on the seats, and we pierced those coffee canisters so that the flammable liquids would spread," said Montoya.
They then ignited the liquid, "in efforts to make those machines obsolete"; she said they "acted after having exhausted all other avenues of political process and resistance."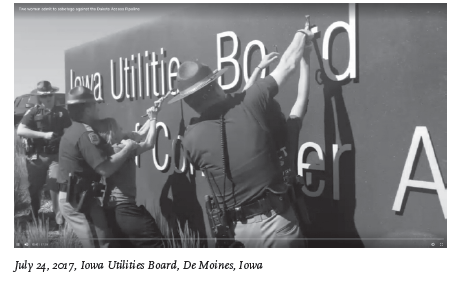 (Click here to see more photos and comments from Montoya and Reznicek in Geez magazine.)
This August, around 30 FBI agents raided the Berrigan House and seized several bags of the women's belongings, reported The Des Moines Register. Following the raid, Energy Transfer Partners, the owner of the Dakota Access pipeline, filed a federal lawsuit against the duo, claiming they caused over $1 million in damages to company property and accusing them of eco-terrorism.
"We are speaking publicly to empower others to act boldly, with purity of heart, to dismantle the infrastructures which deny us our rights to water, land and liberty," stated Reznicek at the press conference. "Water is life, oil is death."
Lydia Wylie-Kellermann is the Editor for the Catholic Worker section of Geez Magazine.
Image: Carl Wycoff
Dear reader, we welcome your response to this article or anything else you read in Geez magazine. Write to the Editor, Geez Magazine, 400 Edmonton Street, Winnipeg, Manitoba, R3B 2M2. Alternately, you can connect with us via social media through Twitter, Facebook, or Instagram.