Review
The Guy's Guide to Feminism
The Guy's Guide to Feminism
by Michael Kaufman and Michael Kimmel
(Seal Press, 2011)
A book review by Kate Schellenberg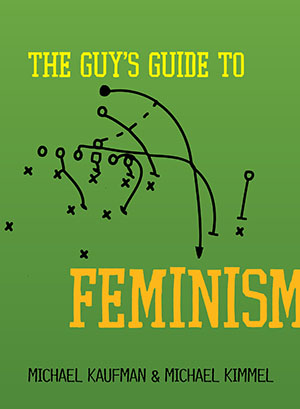 What's the first image that pops into your head when you hear the word feminist? Is it a woman with a shaved head wearing a T-shirt that says "Men Must Die!" Could it be Rosie the Riveter telling us "we can do it!"? Or perhaps you are picturing fierce Amazon women who want all men to be their slaves?
The Guy's Guide to Feminism is a lighthearted look at the hot topics of feminism and a challenge to exactly these sorts of stereotypes. The authors, Michael Kaufman and Michael Kimmel, divide the book into almost 80 very short chapters, each of which names and explains one key feminism-related idea. From PMS to Feminazis, birth control to bra burning, this little book hits some of the most relevant topics in the current discourse on feminism.
While the topics may be relevant, their points are by no means groundbreaking and are in fact already tacitly accepted by most men (in the Western world, anyway). That's precisely the problem with this book: by these guys' standards, almost anyone could come to the conclusion that they are, in fact, an outstanding feminist. This book dumbs down feminism to the most simplistic of guidelines and, unless you're a half-wit misogynist from medieval times, basically congratulates you for already being such a progressive, woman-loving person.
Kaufman and Kimmel try to persuade men to adopt feminism by pointing out how they can benefit from it, but the real struggle for equality – an enormous social task nowhere near completion – is not so obviously rewarding. For women actually to achieve equality, the ones who have the most power (sorry, men, that means you) will need to make serious sacrifices, not expect a payoff for enthusiastically embracing feminism.
I think this book might help sway a staunch anti-feminist to the other side, but if you are looking for a deeper examination of the ways men can meaningfully participate in the struggle for gender equality, I suggest you look elsewhere. Or maybe ask the authors to write a sequel: The Guy's Guide to Feminism 2: Now That You Understand, It's Time to be an Ally!