Difference is Good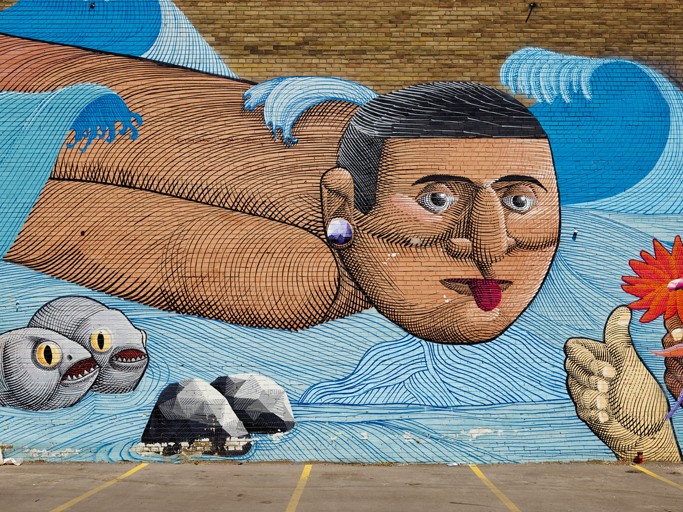 As a kid with a penis raised in an evangelical Christian world, I followed the lead of my elders into male supremacy and homophobia.
I no longer blindly trust their lead or the Bible's simple injunctions; too much pain and dysfunction lie in the wake of ignorant allegiance to power. Where to go now? Whom to trust? How to make sense of my inheritance?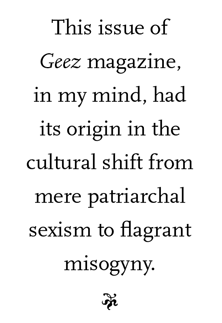 Where there is abuse of power, where the chorus sings for persecution, there is a voice, shrill with pain, that cries for a better way. From my security, I want to open my ears to the cry of suffering and find the confidence to defy the establishment that makes the rules of domination.

This issue of Geez magazine, in my mind, had its origin in the cultural shift from mere patriarchal sexism to flagrant misogyny. The predatory consensus has felt the threat of subversion and has fortified its rule.
The way of power is to eradicate or subjugate difference; thanks to feminists and all those who differ, I'm learning to recognize my part in this dynamic.
Difference need not be a threat. Beauty need not be limited to what we (who have inherited the way of domination) know to be safe. I'm finding delight in the baby steps I've taken to embracing gender diversity. I journey through shame and embarrassment, spurred on by that same dedication to be good and do right that I had as a child.
I need not abandon the faith of my youth. I can see in the story of the Christian gospel seeds of male submission and an injunction to migrate to the margins where diversity and resilience flourish.
Dear reader, I hope you enjoy this issue, may it trouble you in good ways and console you as well. As always, we welcome your feedback.
Aiden Enns is the editor of Geez magazine.
Image: Duncan Rawlinson CC BY-NC 2.0
Dear reader, we welcome your response to this article or anything else you read in Geez magazine. Write to the Editor, Geez Magazine, 400 Edmonton Street, Winnipeg, Manitoba, R3B 2M2. Alternately, you can connect with us via social media through Twitter, Facebook, or Instagram.