News
Feministry: The political theology of Pussy Riot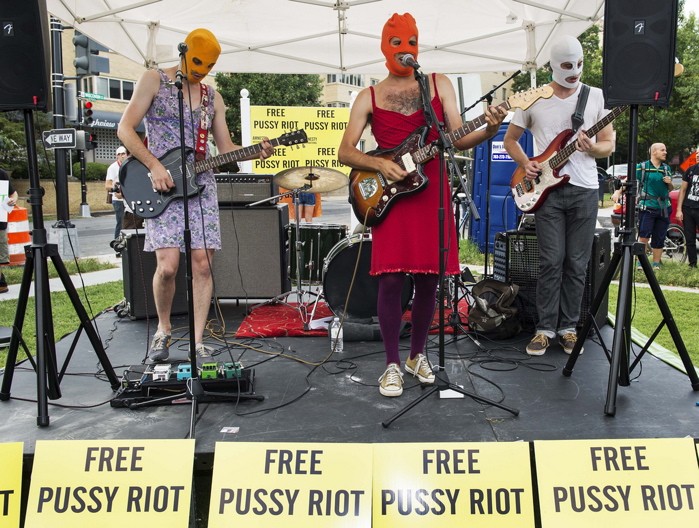 Feminist punk band Pussy Riot has spoken publicly against the exploitation of religion for political gain.
In August, three members of the feminist punk band were sentenced to two years in prison for plotting to "undermine civil order, motivated by religious hatred." They were arrested after their unauthorized punk prayer performance of "Holy Mother, Drive Putin Away" this February at Christ the Saviour Cathedral in Moscow. In her closing statement at the public trial, band member Yekatrina Samutsevich directly challenged Russian president Putin's misuse of his personal ties to the Russian Orthodox Church. Samutsevich claims that Putin, who has a close personal relationship with the leader of the Russian Orthodox Church, used this relationship to his political advantage, allowing the iconic Christ the Saviour Cathedral to "be openly used as a flashy backdrop for the politics of the security forces."
"Why did Putin feel the need to exploit the Orthodox religion and its aesthetic?" Samutsevich asked. "He felt the need for more persuasive, transcendent guarantees of his long tenure at the pinnacle of power. It was then that it became necessary to make use of the aesthetic of the Orthodox religion" (translation posted by n + 1 magazine, see nplusonemag.com).
Samutsevich also accused the patriarch of the church of attempting to persuade the faithful to vote for Putin. Amnesty International considers the three women prisoners of conscience and continues to call for their release.
Sources: chronicle.com, nplusonemag.com, amnesty.org