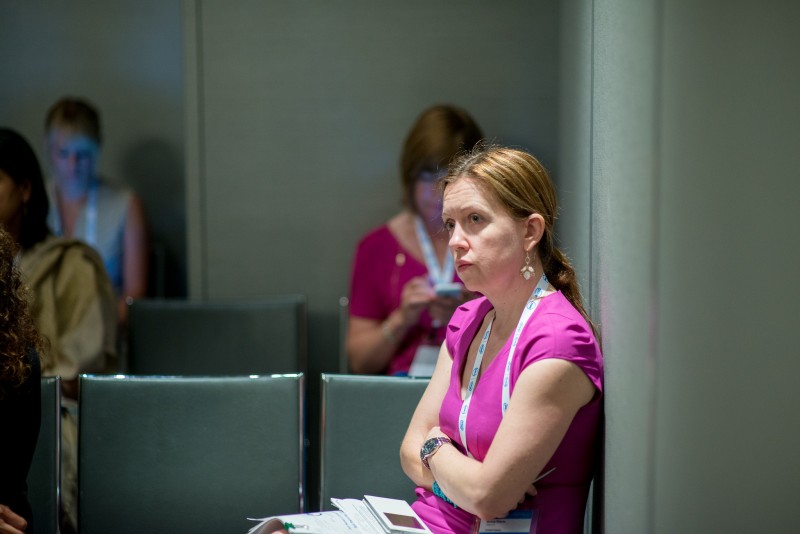 "C'mon–let's walk down to the office and say hello to the girls," my dad said. "They'll be happy to see you."
Sunlight poured into the south-facing windows as we walked across the polished linoleum floor, through the waiting area where customers sat on turquoise vinyl sofas and stared at vending machines. Next stop, saying hello to the girls in the office–the girls in the office.
That was how my dad referred to the women who answered the phones, managed the finances, typed up documents, filed the records, and kept the whole place humming in a room tucked away from handshakes and deal-making.
Of course, we realize now how inappropriate it is to call women "girls"–to address a fellow adult as a juvenile or child, less deserving of respect. We also know that paying women less than men is wrong; it assumes a man's contribution is more valuable and perpetuates male-dominated hierarchies. This is also why we fight for equal funding for girls' and women's athletic programs and for family leave.
And we know that speaking out is important–we must call out the behaviour of men, even famous ones, when they attempt to erase us with discriminatory policies or objectify us with verbal aggression. But what about the way we women wound ourselves with words? What should we do when one of our own–a woman–erases another woman?
Whether walking into a boutique with my daughter, dining out with my husband, or listening to a reputable news program, my distinction as an adult and as a woman is regularly diluted.
"Hi guys–welcome to (insert name of retail establishment here)! Our new collection of sun-dresses just arrived. Let me know if you need help finding your size!"
"Welcome to (insert name of talk show here)–what a terrific audience! You guys are going to love our first guest, an expert on the very important issue of (insert socio-politically relevant topic here)."
We also raise our daughters this way. We help young girls navigate beyond gender roles and teach them to defend themselves against would-be violators, yet we wipe out their inherent value as girls–perfect just as they are–by the words we choose.
Somehow, it's OK to tell a classroom full of children, "I'd like you guys to put away your backpacks and get ready for class."
We tell our girls that they don't have to be like boys–that they should stay true to their unique and natural selves, and then we obliterate their worthiness as female by lumping them in with "you guys."
We didn't used to know better. There were no women on the salesroom floor, and my dad thought he was flattering his female colleagues by calling them "the girls in the office" with a wink and a grin. That's just the way it was. But we are wiser now. Right?
Aline Lindemann researches and writes about Christian mysticism and Yezidism, and she teaches at Arizona State University and Ottawa University Online. She divides her time between Arizona and Cape Cod and can be reached at alinelindemann.com.
Image: Dell Inc. CC BY-NC-ND 2.0
Dear reader, we welcome your response to this article or anything else you read in Geez magazine. Write to the Editor, Geez Magazine, 400 Edmonton Street, Winnipeg, Manitoba, R3B 2M2. Alternately, you can connect with us via social media through Twitter, Facebook, or Instagram.