Practicing Feminist Mothering
Practicing Feminist Mothering
by Fiona Joy Green
(Arbeiter Ring Press, 2011)
A book review by Heather Unger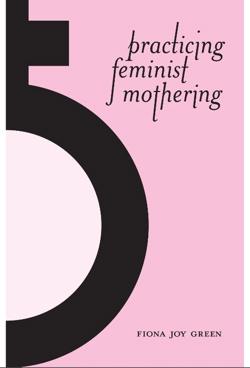 A small-scale organic farmer once told me, "The most political act you can do is to grow your own food." I disagree: the most political act I have done is become a mother.
Over the last several decades, feminist thinkers have deconstructed the concept of motherhood, often criticizing it for being a "patriarchal trap" that serves to fundamentally maintain a sex/gender hierarchy. In Practicing Feminist Mothering, Fiona Joy Green proposes that society may push mothers to conform to mainstream (read: patriarchal) notions of "motherhood," but the actual practice of mothering can be used to challenge those norms and create political and social change.
The first chapter, which traces the history of feminist thought regarding motherhood and mothering since the late 1960s, is dense, but the rest of book is much more accessible, even with a little one tugging at your pant leg every 10 minutes.
Green goes on to relate the lived experience of sixteen feminist mothers and five of their grown daughters. Critical of conventional motherhood, these mothers have brought their politically-charged feminism into parenting. Their practices redefine what makes a good mother and create a legacy of autonomy, self awareness and social responsibility for their daughters and sons. These mothers know that child-rearing is not a neutral act. As one of them says, "How one raises one's children will have a huge impact on what our future is like."
For some of the women Green interviews, feminist mothering has meant teaching their sons to be compassionate and non-violent, reading non-sexist books to their children or discussing gender, race and class issues that arise in television and films; for others it has meant single parenting as lesbian women, or accepting social assistance in order to stay home with children.
Some report that feminist mothering has been a lonely experience. They feel alienated from both their feminist peers who view having children as compliance to patriarchal oppression and non-feminist mothers who see no need to challenge the old "sugar and spice, slugs and snails" stereotypes.
Interviews with the daughters of these women show how feminist values have been passed on to the next generation, forming what Green calls "feminist motherlines." But for this next generation, those hard-earned values have become the new norm. Not all of them find it necessary to vocalize their politics the same way their mothers did. As one of the daughters puts it, "Feminists will achieve their goals when their daughters don't care about it anymore because it's already part of who they are." Not all of the daughters perceive the need for continued feminist effort in the public sphere, but most plan to pass feminist values on to children of their own.
Green reflects that mothers play an enormous role in passing patriarchy on to the next generation. I don't have to look far to see how this is true. How many times in my son's eleven months outside the womb have other mothers unconsciously pressed their notions about how he should act, play, dress, even pee? "Boys will be boys, ya know!" Mothers seeking alternative models of mothering will appreciate the personal accounts of women who share their parenting methods, their successes and the challenges they have faced.
Practicing Feminist Mothering will speak both to those who are focused on resisting unsatisfactory perspectives on motherhood, and for those who envision broader social change through child-rearing. It also has me thinking about the need for change in the church.
A pastor told me recently that we form our conception of God at four and five years of age. She thought it funny that churches give little space for women to use their gifts in leadership, yet women are so often the Sunday School teachers shaping early hearts' understandings of God in the first place. Green's book suggests to me that women have played a role in propping up patriarchal systems in churches; and that these same women, mothering the parish children in church basements, presiding over a humble communion of juice boxes and fish crackers, can have a role in transforming the church.