Radical marriage restores vineyards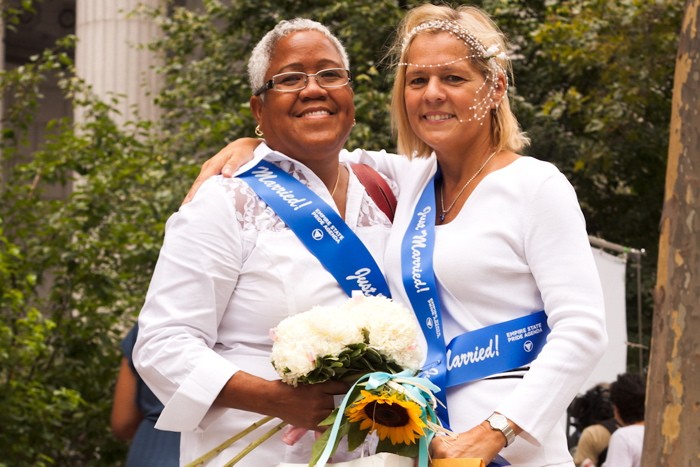 Then I will restore back her vineyards. – Hosea 2: 15
The prophet Hosea is downright romantic in this passage, promising not only that a broken marriage can be healed but that the vineyards will be restored. Hosea is romantic and radical at the same time. We fight about whether gays can marry but rarely talk about what being married means in the first place.
Many of us play at marriage penultimately; that's why the vineyards are not yet restored. In the marriage vow, we say no to consumerism in our romantic lives. If you insert conditions into the covenant, so will your partner. If you take conditions out of the covenant, so might your partner. Unconditional love restores the fertility of the vineyard.
I have been married through five dead dogs, to the same man, for 32 years. He knows how feeble I am. He knows my anger – and its lack of a shut off valve. He knows my varicose veins. He could, if he tried, laugh more or advise less when we play tennis. Sure, we could get my veins fixed and make his tennis chatter cease, but we probably would not love each other that much more.
Over the years, the conditions in our marriage have disappeared. As they did, the vineyards developed those ancient vines you see in winter; so happy are they to be indecipherably intertwined.
Officiate
I often stand on the other side of the altar as a lot of promises are made. Some couples write their own vows, which is fine. Others use the old "for better or for worse" version. Regardless, honesty of spiritual commitment is crucial.
I just married a Hindu bride, also head of the New York City taxi drivers, and an Ecuadoran taxi driver. They promised to love each other no matter what. That was all they said, and it was more than enough.
Another wedding involved a Palestinian refugee and a Jewish princess (their words for themselves). Her parents were divorced twice so she has a biological mother and father as well as two stepmothers and two stepfathers. His father is a non-observant Muslim. Nevertheless his father required that she convert to Islam so as not to embarrass the family. The groom in this situation told his father that he would convert to Judaism, if he maintained his requirement that she convert to Islam. Weddings throw us back to our roots, and then propel us forward into new worlds. Parents try to condition us, and we can refuse, radically, the conditioning.
Weddings also involve class often to transcend it. Another set of promises happened at the first lesbian wedding to make the society pages of the Spanish newspaper El Pais. For the three-day event, the mother interviewed all 100 of the staff about their attitudes towards gender and orientation. She also commissioned silver sculptures in a great tree, built a dance floor over the swimming pool and generally over-spent and overdid. She forgot that the sprinklers were on automatic and laughed when they sprayed all the guests at precisely 11 p.m.
Marrying is about restoring the vineyard so that it can surprise rich and poor. Marriage is a great conditioning that keeps us in shape for unconditional love, the kind promised in the beginning.
Donna Schaper is the senior minister at Judson Memorial Church in New York City and the author of 31 books, most recently Grace At Table: Small Spiritual Solutions to Large Material Problems.