Breakfast alone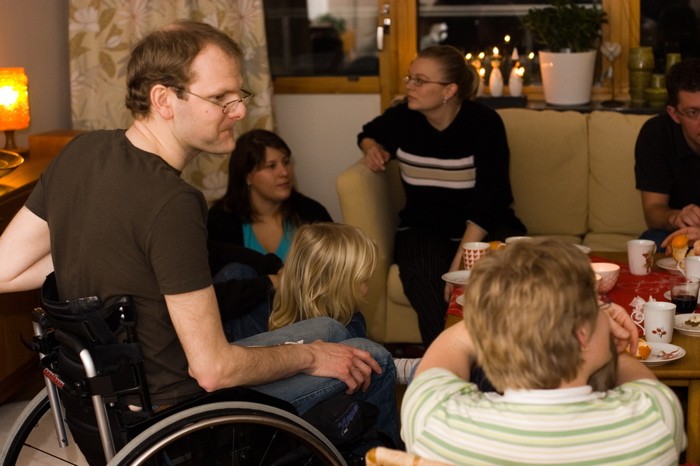 I reach around the shower curtain and show Jeff the towel hanging on the hook.
"Umm . . ."
"Too heavy?" I ask.
Because of Jeff 's muscular dystrophy, he can't heft all of the towels in the linen closet. It's part of the shorthand of our marriage that we both know which towels are light enough, and which are not – a difference indistinguishable to anyone else. Did I grab a heavy one by mistake? Or is there some part of me that wishes, that hopes, even, that this time he'll be able to use this towel, the heavier one?
Click here to listen to an audio version of this article.
Is this what you see when you see a man rolling along in an electric wheelchair, a woman walking beside him? Do you see a morning measured out in the relative weight of one towel over another?
I imagine other marriages. Someone hoards Playboys or Superman action figures or measuring cups; someone overspends on jewellery or online poker or television evangelists. Someone withholds sex for an imagined slight; someone kicks the dog when the other isn't looking. One couple makes love twice a year; another, twice a day. Some marriages are built on teetering piles of lies, the truth never spoken about the blanket-sharing disagreement that began in the honeymoon suite, or the pineapple upside down cake incident, or the cancer.
No one ever needs to know these things.
It is not that way in my marriage. As soon as we leave the house, what looks like our most difficult Issue-with-a-capital-I is out there. A blinking neon sign over our heads reads, "Guy in wheelchair!"
A lighter towel found, I push Jeff to the sink where he will shave and brush his teeth, while I go to the kitchen and heat up a bran muffin for breakfast.

You ask, "how do you do it?" I'm guessing you don't mean choose as my companion a man who does not enjoy breakfast, the most perfect meal of the day. But truthfully, in the early years of our marriage, I shed more tears over the pancakes we would never share than the legs that would never walk. At first I shouldered the prospect of a lifetime of solo morning meals with much less grace than I did the disability that seems so big.
In a while, I will transfer Jeff back to the bed so he can lay flat while I pull on his socks and pants. I'll crack a joke, transfer him back to his wheelchair. He will kiss me goodbye and say, "I love you." I will say it back. That we both mean it is what will carry us both through today, this week, next year, a lifetime. But first, I'm going to eat this muffin. By myself.
Jennifer Garrison Brownell values exuberance over perfection – at least, that's what she told herself when she learned to surf last summer. She lives near Portland, Oregon, with her husband, son and two ill-behaved poodles.
Image: Tomas Hellburg