The Rainbow Page
Pope Francis named "Person of the Year" by The Advocate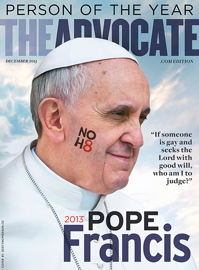 After being named "Person of the Year" by Time, Pope Francis got the same accolade from The Advocate – a U.S. magazine about gay politics and culture.
"Sure, we all know Catholics who fudge on the religion's rules," wrote Sunnivie Brydum, explaining the choice. "But none of that should lead us to underestimate any pope's capacity for persuading hearts and minds in opening to LGBT people, and not only in the U.S. but globally."
As leader of the Roman Catholic Church, Pope Francis has taken some historic pro-LGBT steps.
In October, after an Italian Catholic group called Kairos of Florence wrote him a letter asking for "openness and dialogue," he personally responded. Kairos had written to other popes in the past, but Francis was the first to officially reply.
And in August, Pope Francis told a group of reporters that gay clergymen should be welcomed rather than marginalized: "If a person is gay and seeks God and has good will, who am I to judge?"
The Vatican declined to comment on The Advocate's decision. But Parker Marie Malloy, a contributing writer for The Advocate, doesn't think the pope deserves the title "if we only focus on the T."
After a year in power, Malloy wrote, Pope Francis has said nothing in defense of transgender people as they face discrimination from Catholic institutions and media outlets.
Said Malloy: "Why has he remained silent in our plight?"