Civil Disobedience
Christian Opposition to DACA Cancellation Spans Nation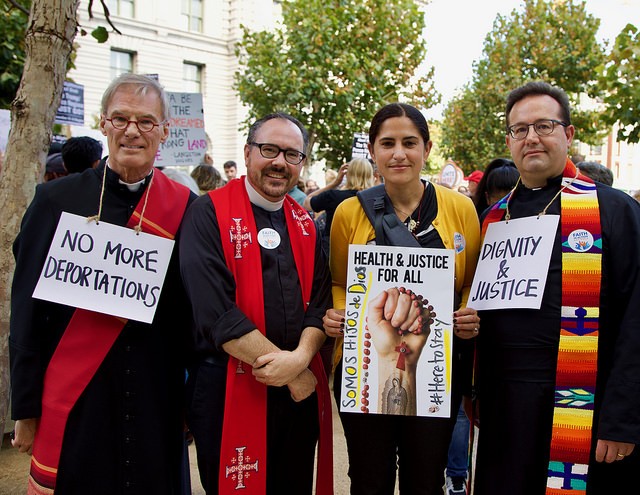 Catholic activists engaged in sustained opposition against the expiration of the United States' Deferred Action for Childhood Arrivals program (often referred to as DACA) in the latter months of 2017.
DACA was first created in 2012 and expanded in 2014 to allow "illegal" minors to have access to a work permit and avoid immediate deportation. The program protected nearly 800,000 young adults from being deported. But in September, U.S. President Donald Trump effectively cancelled the program, giving Congress six months to figure out the specifics.
In July, Joe Vásquez – Catholic bishop and chair of the migration committee for all U.S. bishops – issued a statement: "These young people entered the U.S. as children, and know America as their only home. The dignity of every human being, particularly that of our children and youth, must be protected."
More than 1,600 religious leaders signed a letter to the president requesting that DACA be preserved, Crux Catholic Media reported.
Steve Bannon, former chief strategist for Trump, alleged in an interview with 60 Minutes that the Catholic Church was defending DACA because "they need illegal aliens to fill the churches." In response, the chief spokesperson for the U.S. Conference of Catholic Bishops stated, "Our pro-immigration stance is based on fidelity to God's word and honors the American dream. For anyone to suggest that it is out of sordid motives of statistics or financial gain is outrageous and insulting."
According to Public Radio International, some evangelical congregations also voiced support for DACA.
On November 1, at least 15 people were arrested at a U.S. Senate office in Washington, D.C., including many pastors and reverends, reported Democracy Now!
James Wilt is the Civil Disobedience Editor for Geez Magazine.
Image: Charlie Moehle, used under a CC licence