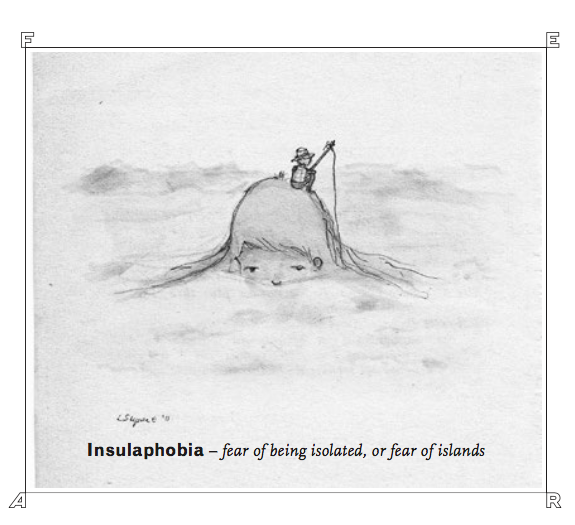 The Philippine military interrogated me for seven hours. My interrogators were a colonel, a major and two intelligence agents. They had a thick folder. "Here is everything we know about you," the colonel said. It had information on my activities, associates, and friends. My home. My family.

Prior to the interrogation, I had been in hiding. I was afraid for my husband. The military had detained and tortured him to get to me. I was 20 years old and pregnant with our second child. How would I support my children as a fugitive? I had no money. No family support.
My lawyer, a well-known human rights advocate, agreed to take me to the detention camp to "sort this out." After weeks of hiding I reasoned it would be better if I turned myself in, and he agreed. Would the military dare torture, rape or kill a pregnant woman who voluntarily chose to face the consequences? However, as we drove to the camp my lawyer told his driver to turn back. "I cannot guarantee your safety," he said.
This drive to and from the camp happened four or five times over two months until finally I said, "Enough!" By then I was eight months pregnant. I needed to overcome my fear of being detained, and subject to God-knows-what treatment, and believe that I would be okay.
I remember the colonel saying, "You know what really bothers us? You left the comforts of your life to become an activist. You have no place to sleep. You lack food. Why would you choose such a life?"
What could I have possibly gained from this?
It was true. My upbringing was comfortable, and I had much to lose. My family enjoyed status in our town near Manila, where my uncle was the mayor. My father was an icon for being fair and just in our community. He was well-respected and generous, offering food and his own bed to those in need, but never questioning the roots of their poverty. Growing up I remember my father painting my future as we gazed at the stars. I would travel overseas, perhaps become a diplomat, and have a good life.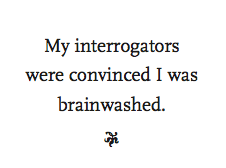 His plans for me did not include student activism, homelessness, and a life lived in fear, but that is what happened. After becoming a student leader, I grew to fear the night, the time activists disappeared, their bodies dumped on isolated roads.
I trained myself to awaken at the slightest noise, and barely slept as a result. My housemates, who were my cousins and nieces, feared that they would be caught up in the net drawn for me. Fearing for their safety, I slept in parks for two years, and ate food left behind by others. My father cut off ties with me as punishment, as well as to safeguard the rest of the family.
My interrogators were convinced I was brainwashed. I told them that accepting the position of National Secretary of the League of Filipino Students was of my own free will. I was educating the middle class and working with marginalized sectors, including students, organizing and mobilizing them to change a system that suppressed civil liberties.
I told them that I chose this. Perhaps I was naïve, but I didn't care. I told them that growing up I thought the wide disparity between rich and poor was normal. I was privileged, others were not. I could go to school, they could not. But when I went to university and canvassed during martial law for the late Benigno Aquino Sr., the jailed opposition leader, my eyes were opened. I started to see that something was very wrong with the system.
I became a student activist. I questioned why education in the Philippines was reserved for a privileged few. And I came to understand why workers were willing to risk their lives to advocate for their rights.
The colonel responded by agreeing that it was not my husband, also an activist, who should be detained, but me. While I was truly afraid of the detention camp, I told him, "If that's your belief, then do it. Imprison me. But release my husband."
They let me go and kept my husband for three years. I believe they were afraid of the backlash if they imprisoned a very pregnant woman from a respectable social class who had voluntarily faced the charges against her.
For a while I was immobilized by fear. I internalized the danger to prepare myself for what could happen and accepted it. Ultimately, my anger and frustration at the injustice overrode my fear. When you see injustice, it is very difficult to unsee it.
I went on to defend the rights of political prisoners and their families, and witnessed first-hand the power of solidarity. While in the detention centre, my husband received hundreds of comforting cards from Canadians who were mobilized by campaigns organized by the United Church of Canada and Canadian Catholic Organization for Development and Peace. Soon, his treatment improved. The military understood people were watching, and they tread more carefully.
But fear finally did drive me and my family to emigrate to Canada in 1989. This was at the height of coup attempts by forces within the Philippine military to destabilize the government of the late Corazon Aquino. Our neighbour's home was bombed, and government informants infiltrated civil rights circles, prompting activists to purge suspected spies. I was afraid for our children if any- thing were to happen to me or my husband.
Our move to the Greater Toronto Area was supposed to be temporary, at least for me. I would raise my kids and return to the Philippines to continue my work. But after almost 30 years, I am still in Canada working with KAIROS alongside other solidarity groups and human rights defenders to ensure human rights are respected in the Philippines and other countries. I still have yet to see effective action from the Canadian government to improve the situation in my country. A stable country like Canada, which has mining interests in the Philippines, can make a difference if it has the political will to apply diplomatic pressure. If everyday Canadians can effect change by sending cards to a detention camp, imagine the change that pressure from the government could bring about.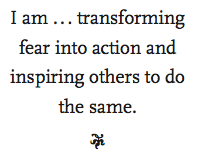 Despite my advocacy efforts and organizing, feelings of guilt engulf me whenever I hear that friends back home have been harassed, detained or killed. My response is to launch into hyper action. Like fear, guilt serves to motivate me.
In 2014, I helped organize the KAIROS Philippine Delegation that brought a group of Canadians to the Philippine island of Mindanao to learn about the experiences of local Indigenous people who were terrorized by military, paramilitary and security forces hired to protect a Canadian mine.
I knew we were being watched in Manila and Mindanao, but I also knew we were not the ones in danger. It was the villagers who came to us to share their stories who took the greatest risk.
Rather than paralyze them, this fear strengthened their resolve. Many came forward to share their stories in an attempt to convince Canada to make its mining companies more accountable and more respectful of human rights.
Those who advocate for justice lose much. Some lose their lives. Others, like me, lose their connections with their families and friends. I also lost my faith in a church that failed to question and challenge the root causes of poverty.
I gained more, however. I have helped. I make a difference. I am respected. I am confident and determined in my advocacy for social justice, transforming fear into action and inspiring others to do the same. My relationship with God has deepened. I feel human, one who continues to be afraid but feels empathy and takes action to help others.
I dedicate this story to the brave and courageous women leaders who overcome fear to take action to secure a better future for their children and communities.
Connie Sorio migrated to Canada with her young family in 1989. She is currently the Migrant Justice and Asia-Pacific Partnerships coordinator at KAIROS. Connie is a leader in the Filipino diaspora in the Greater Toronto Area, one of the founders of Migrante Canada and the International Committee on Human Rights in the Philippines-Canada. She lives in Brampton, Ontario, with her four sons and three grandchildren.
Image: Leslie Supnet, used with permission.
Dear reader, we welcome your response to this article or anything else you read in Geez magazine. Write to the Editor, Geez Magazine, 400 Edmonton Street, Winnipeg, Manitoba, R3B 2M2. Alternately, you can connect with us via social media through Twitter, Facebook, or Instagram.