Catholic Worker
No, No GMO!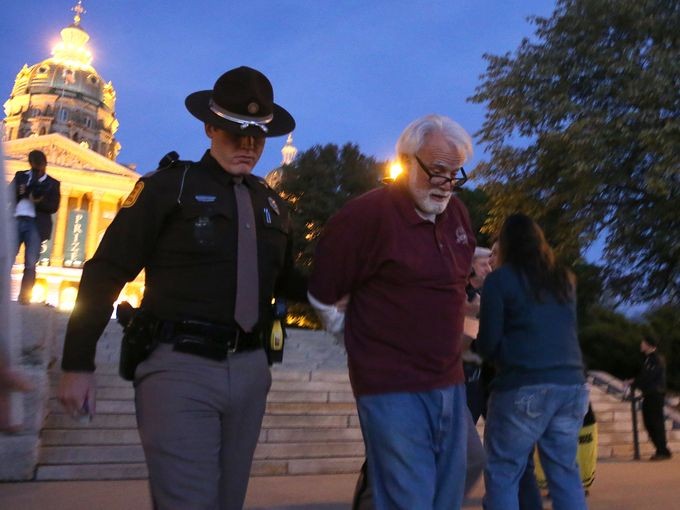 Peter Maurin, co-founder of the Catholic Worker movement, once made clear that food and land were central to their work.
He called for agronomic universities saying "in the Catholic Worker people learn to use their hands, as well as their heads." Today, Catholic Workers are keeping that vision alive in the food justice movement with quite a few worker houses raising backyard chickens.
In Iowa, this commitment has led to the streets. The Occupy Food Prize Movement was created in resistance to the World Food Prize, which honours corporate and large-scale industrial agriculture, and recognizes genetically modified food as a solution to growing world hunger. According to The Des Moines Register, Occupy took to the Iowa Capitol building as guests were arriving for the award ceremony chanting "No, No GMO!" Three Catholic Workers were arrested – Mike Miles from Anathoth Catholic Worker Farm, Frank Cordaro, and Jessica Reznicek from Des Moines Catholic Worker. Earlier in the summer, they also held an alternative food prize honouring the Union of Agricultural Work Committees' support of small-scale farms in the West Bank and Gaza, and the Community of Community Development's works with immigrant farmers from Mexico.