Let's Imagine Better Travel
Every once in a while I bump into someone who doesn't travel and doesn't want to travel.
A woman selling preserves next to a field of giant corn stalks did not go far from the family farm in Michigan. A clerk at the grocery store in Tofino near the tip of Vancouver Island said she doesn't want to go anywhere. "People are in such a rush to go places. I can't stand it."
I think of these two women as heroic contemplatives – heroic because they don't consider their contentment unusual (or at least that's my impression). To me, it is significant to not want to travel; travelling is such a huge part of our collective imagination. We have powerful "tourism imaginaries," which is the title of a book I used as background research for this issue of the magazine.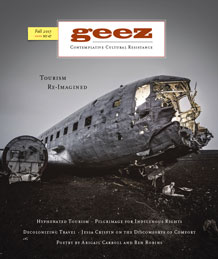 Our tourism imaginaries are deep and compelling, reinforced over generations by word of mouth, postcards, photographs, and mementos on souvenir trophy shelves.
When I consider the master narrative of compulsive travel and the monstrosity of global tourism, I blame capitalism. Of course, that's no surprise because I blame capitalism for everything. Efficiency, progress, production, work, leisure – we have blessed a script for resource extraction, energy consumption, waste production, and a culture industry that ensures we follow that script.
Guy Debord, in 1967, called industrial capitalist culture The Society of the Spectacle, which is also the title of his dense, marxist critique of the commodification of things, workers, and social relations. We succumb to the lure of the new, enamoured by that which dazzles with features, styles or the tiniest innovation of convenience. It infects our way of talking, "You'll never believe what I saw today, it was [something amazing]."
Our tourism imaginaries are inflated by our blind allegiance to the cult of the spectacle. We swoon over the vast array of cheeses, the number of pools on each deck, or how authentically person X got off the beaten track. How wide our ears become as we listen to amazing travel savings or learn about exorbitant spending habits.
I know that we know there is a better way. A better tourism imaginary. At first, an alternative tourism imaginary appears lethargic and sedentary. Not quite boring, but not immediately impressive. In this view, a person or family may only go on a long trip once or twice in their lives. The rest of their vacation time is spent in leisure and learning pursuits closer to home. They write, produce, perform, or watch plays and concerts. "Intramural" should be the new word to describe how we want to contain ourselves and our leisure and learning activities near where we live.
Global travel tourism became a phenomenon of the present; it can become a phenomenon of the past, a grand passing fad. We can re-imagine tourism. Take a tour in the library, stroll along a river in your city, province, or state. We can live with confidence into a future that is destined to arrive, rather than suppress the knowledge that we do massive collective harm.
It starts with the pursuit of an alternative suite of tourism imaginaries, and they are emerging. It proceeds with the fuel of compassion for all living things and is sustained by a grace that knows in spite of the very real and heavy chains of complicity, we are also free to imagine and act on a better way.
In this issue of Geez, we simply start the discussion. We're asking how we can imagine travel and tourism in better ways – in ways, for example, that are less colonial and less fossil-fuel intense. Reader responses and suggestions are always welcome. Write to 400 Edmonton Street, Winnipeg, Manitoba, R3B 2M2, or email editor [at] geezmagazine [dot] org.