Pilgrim Slows Progress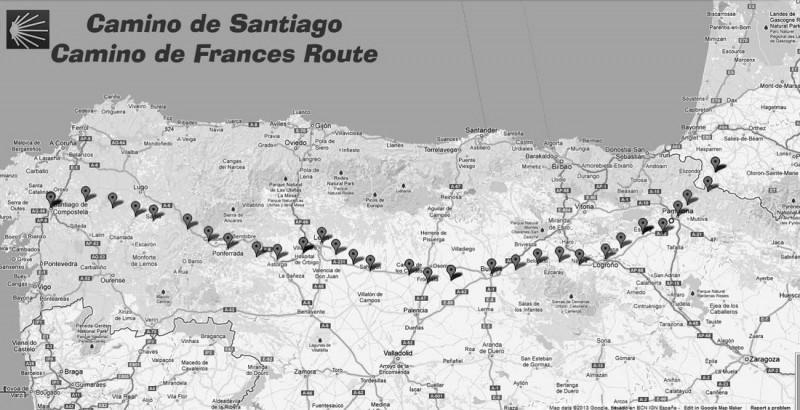 I decided to hike the Camino de Santiago, a major Christian pilgrimage route in Spain about 800 kilometers or 500 miles long, to support my mom.
It was a decades-long wish of hers and I was the only one who was willing to take it on with her. I thought it would be challenging but fun. I envisioned a quiet and contemplative hike.
One thing I didn't expect, however, was that the Camino would be so competitive. Fellow pilgrims traded stories of how they hiked the most, or had the worst feet, or the best experience of the day. No matter what detail of the hike you were discussing there always seemed to be someone who was trying to one-up you with a more-sorrowful or more-triumphant story. Travellers conformed their experiences to become a part of a story hierarchy with the goal of their story being at the top.
I tried to ignore much of this banter, but one day my competitiveness got the best of me.
It was one of our longest, most difficult days. My mother and I kept a steady pace – not too fast, not too slow. This meant we constantly had to step aside for speedier pilgrims.
At first, it was no big deal, but as the day wore on I got annoyed with pilgrims constantly pushing me and my mom to the side. Fortunately, as we continued into the evening we met fewer and fewer pilgrims. Most had chosen to end their day earlier.
Finally, it was quiet on the path, and those visions of contemplation and enjoyment of the Spanish countryside were beginning to take shape. But the silence was broken by two pilgrims off in the distance, approaching us from behind. I looked back and saw that they were gaining on us. Fed up with being pushed aside, I told my mom we wouldn't be passed on the last few kilometres of our hike.
I picked up my pace and pushed forward, and my mom joined in. All I could think was, "I will not be passed. Not now." My feet hurt; my back ached. I wanted the day to end, but I would not be moved from my position. It was ridiculous.
We did make it to the village before the other pilgrims, and, for a tiny moment, I felt a sense of pride. But this quickly faded into embarrassment. I had become one of those pilgrims who always had to have the "best" or "worst" story of the day. I had ignored the purpose of the Camino de Santiago and turned it into another competitive travel experience.
After that day, I stopped competing with other pilgrims. It does not matter if you hike the most or least; the goal is to learn from the journey.
Kim Hornak lives in a small town in Ontario. She writes zines and articles for InvitedGhosts.com. Her travel tip: Get lost.
Image: linscaminodesantiago
Dear reader, we welcome your response to this article or anything else you read in Geez magazine. Write to the Editor, Geez Magazine, 400 Edmonton Street, Winnipeg, Manitoba, R3B 2M2. Alternately, you can connect with us via social media through Twitter, Facebook, or Instagram.