Catholic Worker
King's Bay Plowshares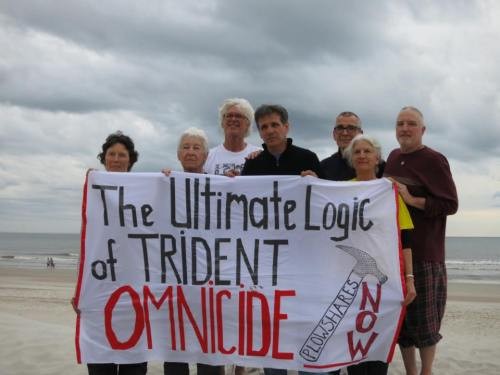 On April 4, seven Catholic Worker activists trespassed onto King's Bay Naval Base, a trident nuclear submarine base in St. Mary's, Georgia. They brought hammers, carried banners, and spilled their own blood that they had brought in baby bottles.
They were arrested early the next morning and have been charged with two felonies—possession of tools for the commission of a crime and interference with government property—as well as a misdemeanour of criminal
trespass.
The seven activists are Elizabeth (Liz) McAlister, 78, from Baltimore; Steve Kelly, S.J., 69, from Bay Area; Carmen Trotta, 55, of the New York Catholic Worker; Clare Grady, 59, from the Ithica Catholic Worker; Mark Colville, 55, from the Amistad Catholic Worker; Patrick O'Neill, 61, from the Fr. Charlie Mulholland Catholic Worker; and Martha Hennessy, 62, granddaughter of Dorothy Day from the New York Catholic Worker.
This action is part of the Plowshares movement that began in 1980, when Daniel and Philip Berrigan and six others broke into the General Electric Nuclear Missile facility at King of Prussia where they took hammers and banged on warhead nosecones and poured their own blood on documents and files.
Since then, more than 100 Plowshares actions have taken place around the world, often with charges that have led to several years in prison. The actions are an attempt to enact Isaiah's call to "turn swords into plowshares."
These nonviolent war resistors chose to act on the 50th anniversary of the assassination of Martin Luther King Jr., mindful of how he called for an end to the triplet of evil—militarism, racism, and materialism.
In a statement, the King's Bay Plowshares activists wrote, "We come to King's Bay to answer the call of the prophet Isaiah (2:4) to 'beat swords into plowshares' by disarming the world's deadliest nuclear weapon, the Trident submarine. We repent of the sin of white supremacy that oppresses and takes the lives of people of colour here in the United States and throughout the world. We resist militarism that has employed deadly violence to enforce global domination. We believe reparations are required for stolen land, labour and lives."
In an article for Truth-Out.org, Frida Berrigan, daughter of Liz McAlister, marked the moment her mom crossed onto the base in relationship to the racial moment in the United States. She named the protests happening in Sacramento after the killing of Stephon Clark and another police killing of Saheed Vassell that same morning in New York.
So, while she worried about her mother as they entered a free-fire zone—where military personal are authorized to use deadly force—Frida pointed out that "these seven white activists know that when you are black in this country, your own corner, your grandmother's own backyard, is a free-fire zone more dangerous than any military base."
The activists have been denied bond and remain in prison while awaiting court proceedings. See address below to send letters of love and support. Please note that letters must be written on plain white postcards only, which can be purchased at the post office.
Clare Grady 65197
Patrick O'Neill 65205
Elizabeth McAlister 65198
Stephen Kelly 65201
Martha Hennessy 65206
Mark Colville 65200
Carmen Trotta 65203
Camden County Detention Facility,
P.O. Box 699,
Woodbine, GA 31569.
Lydia Wylie-Kellermann is the Editor for the Catholic Worker section of Geez Magazine.