Feministry
Handmaid Protest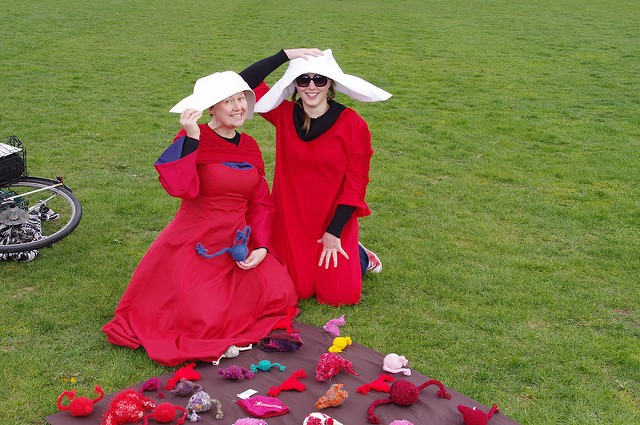 Sixteen women in Ohio appeared in the state's senate building June 13 dressed as handmaids in protest of a bill that would limit access to women's health.
If passed, Senate Bill 145 would prohibit doctors in the state from performing a specific abortion procedure known as dilation and evacuation.
Protestors appeared in and around the statehouse wearing red capes and white bonnets, reminiscent of the 1985 dystopian novel The Handmaid's Tale, by Margaret Atwood. Women in the novel have no social or civil rights and are treated mostly as vessels for growing children. The book has recently been turned into a miniseries, increasing its popularity.
Protestors were silent during the demonstration, and no police action was taken against them.
"Today's handmaid protestors are here to show the members of the Ohio legislature that Ohio women are done being silently restricted in what they may choose for their own health care," said Jaime Miracle, NARAL Pro-Choice Ohio deputy director.
In Texas and New York activists dressed as handmaids protested similar bills intended to restrict access to abortion services.
Bre Woligroski is the Feministry editor for Geez magazine.
Dear reader, we welcome your response to this article or anything else you read in Geez magazine. Write to the Editor, Geez Magazine, 400 Edmonton Street, Winnipeg, Manitoba, R3B 2M2. Alternately, you can connect with us via social media through Twitter, Facebook, or Instagram.
Image: "OfStephen (Jenn) & OfStephen (Julie)" by Jenn Farr, CC BY-NC-SA 2.0