A Trans-Canada Counter-Narrative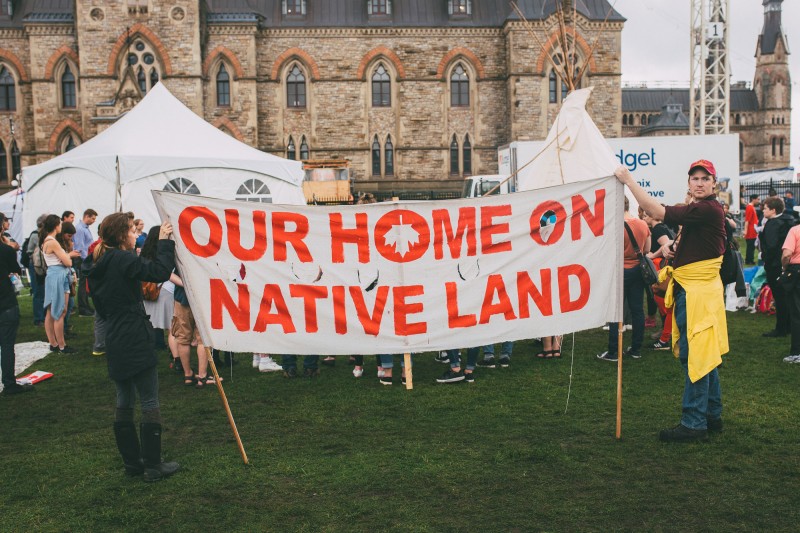 Canada 150 has some people calling for wild celebrations and some calling for a re-examination of confederation. It is a complicated time that has many unsure of exactly how to respond.
Two men from Ontario, Jonathon Reed and Asad Chisti, decided to mark Canada 150 by biking from the east coast to the north coast to the west coast and documenting the stories of people they meet along the way.
"There is a really strong mainstream narrative around celebrating 150 years. And so our goal with this project … is to research and share … the stories of marginalized people and marginalized histories," Reed said in a video call from Gaspé, Quebec.
They left St. John's, Newfoundland, on May 1 with two bikes, camping equipment, and all the gear necessary for photography, video, and audio.
Before leaving their home base of Kingston, Ontario, Reed and Chisti were invited to a talking circle facilitated by Pytor Hodgson, an Anishinaabe man who operates a local company that works on national reconciliation projects. He had previously made connections for them with Indigenous leaders along their cycling route and explained proper practices in greeting and visiting elders.
The talking circle is designed to bring Indigenous and non-Indigenous people together with the hopes of providing education about Canada's history as well as creating conversation and relationships among participants. At the end of the event, Hodgson invited them into the circle and gave them medicine bags and his blessing.
"That send-off was powerful and without his guidance I think I would feel a lot more uncertain and . . . certainly would act a lot more colonial," said Reed.
There are those who are critical of settlers speaking out for Indigenous peoples in the name of reconciliation. (Think of the recent backlash when Canada's prime minister asked Pope Francis for an apology for the Catholic church's role in residential schools.) Reed is very conscious of how he tells the stories he encounters on the road. He aims to keep the focus on whoever he's writing about and to "do it in such a way that amplifies the stories of others, which is kind of tough," he says, "because I'm right there in the thick of the narrative."
Virginia MacDonald is a woman who has spent most of her adult life living on reserves and in communities of First Peoples (her husband Mark is the National Indigenous Anglican Bishop). As one who gives workshops on allyship, MacDonald says that settler people can never act as the voice for Indigenous peoples, but that they need to "come to an understanding of our country's role in the subjugation and colonization of peoples." She says that if there's anything that she learned living amongst Indigenous peoples it's that "relationships are of primary importance." When it comes to examining the darker side of Canada's history "the relationship is more important than the content."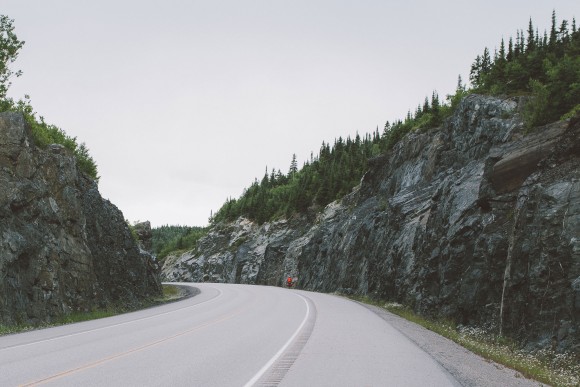 There appears to be no shortage of relationships for Reed and Chisti. They are sleeping and eating in the homes of rural Canadians, listening to stories. They have met farmers and fishers, drag queens and hitchhikers, drug users and artists. It seems the whole exercise is one of listening.
One of the many videos posted is with Gilbert Sark, drum keeper from Lennox Island First Nation, Prince Edward Island. When asked what direction Canada should take, he says, "The only way for Canada to move forward is for it to start listening to its people."
Kathryn Gray lives in Toronto, land of the Mississaugas of the New Credit. Her travel tip: She never travels without chia seeds and tetra packs of coconut milk – a fast, cheap, healthy breakfast for her family. Readers can follow Reed and Chisti's journey at astheravenfli.es
Dear reader, we welcome your response to this article or anything else you read in Geez magazine. Write to the Editor, Geez Magazine, 400 Edmonton Street, Winnipeg, Manitoba, R3B 2M2. Alternately, you can connect with us via social media through Twitter, Facebook, or Instagram.
Images and captions: Jonathan Reed and Asad Chisti