Civil Disobedience
Grandmother, pastor, and priest sentenced to week in jail for protesting Kinder Morgan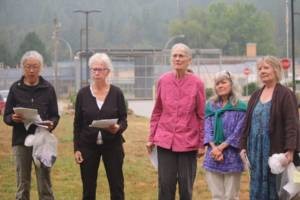 At least a dozen people have been given week-long jail sentences for peacefully protesting the Kinder Morgan Trans Mountain pipeline outside the Westridge marine terminal in Burnaby, British Columbia.
The first jail sentences were handed down in late July. Laurie Embree, a 70-year-old grandmother, was incarcerated at Alouette Correctional Centre for Women in Maple Ridge and released after serving four nights on good behaviour. In her pre-sentencing statement, Embree said that there have been "many times when our laws have supported injustices."
A week later, two more protesters were sentenced to week-long jail terms: Emilie Smith, a priest at St. Barnabas Anglican Church in New Westminster, and Steve Heinrichs, director of Indigenous-Settler Relations at Mennonite Church Canada. Then, on August 15, another seven people were sentenced. Those included legendary housing and anti-poverty activist Jean Swanson and former B.C. Teachers' Federation president Susan Lambert.
In a tweet posted after sentencing, Swanson–a 75-year-old Order of Canada recipient and candidate for Vancouver City Council–wrote "Every single person who takes a stand against a pipeline is pointing towards a more just future. If going to jail can be part of that resistance, so be it."
Another four people were arrested outside the Westridge marine terminal the day before the sentencing of the seven protesters.
At the time of writing, 214 people have been charged with contempt relating to the protest.
In early July, seven people rappelled off the Ironworkers Memorial Bridge in Vancouver to block oil tankers from passing under the bridge and leaving the harbour. They hung for more than 36 hours, successfully delaying at least two tankers.
If approved by shareholders at the end of August, the existing Trans Mountain pipeline and related assets will be sold to the Government of Canada for $4.5 billion. The federal government will also take on responsibility for completing the expansion of the pipeline from 300,000 barrels per day to 890,000 barrels per day, costing up to $9.3 billion. Independent economist Robyn Allan has estimated that the full project may end up costing $15 billion.
Swanson spoke directly to this point in a statement following her arrest: "Spending billions of taxpayer dollars on an oil pipeline given the threat of climate change is not making Canada a better country."
James Wilt is the Civil Disobedience Editor for Geez Magazine.
Image: Protect the Inlet
Dear reader, we welcome your response to this article or anything else you read in Geez magazine. Write to the Editor, Geez Magazine, 400 Edmonton Street, Winnipeg, Manitoba, R3B 2M2. Alternately, you can connect with us via social media through Twitter, Facebook, or Instagram.