Civil Disobedience
Faith leaders arrested on frontline of Kinder Morgan protests in B.C.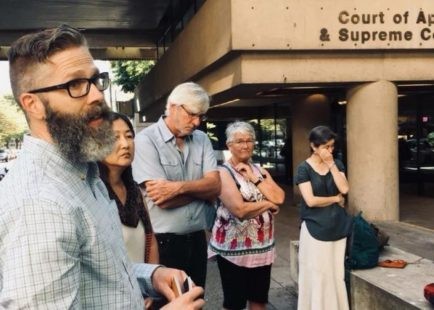 In March and April, hundreds of people were arrested during protests at Kinder Morgan's Westridge Marine Terminal. Led by local Indigenous people, the actions sought to stop the construction of the proposed Trans Mountain Expansion Project, which will almost triple pipeline capacity from the Alberta oilsands.
A wide range of people were arrested, including environmentalists, former oil industry employees, and two federal MPs. On April 20, that list expanded to include faith leaders including National Indigenous Anglican Bishop Mark MacDonald, Rev. Emilie Smith of New Westminster's St. Barnabas Anglican Church, and Steve Heinrichs, Mennonite Church Canada's Indigenous-Settler Relations coordinator.
According to the Vancouver Courier, the leaders responded to a request from Tsleil-Waututh Nation member Will George for faith leaders to join the blockades.
MacDonald said, "Our goal here is very simple. To underline and highlight the principle of free, prior, and informed consent which we believe is at the heart of reconciliation in Canada, at the heart of Indigenous people, and at the heart of liveable future of us all."
Heinrichs told Canadian Mennonite: "We knew we were doing something against the law of the land, in our sacred tradition of obeying God rather than men."
In April, a B.C. judge recommended that defendants involved in the standoff be charged for criminal contempt instead of as a civil case. That would greatly intensify the potential consequences for the actions. Amnesty International stated that protesters should not face criminal charges.
James Wilt is the Civil Disobedience Editor for Geez Magazine.
Image: Brad Leitch