Lament on Coast Salish Land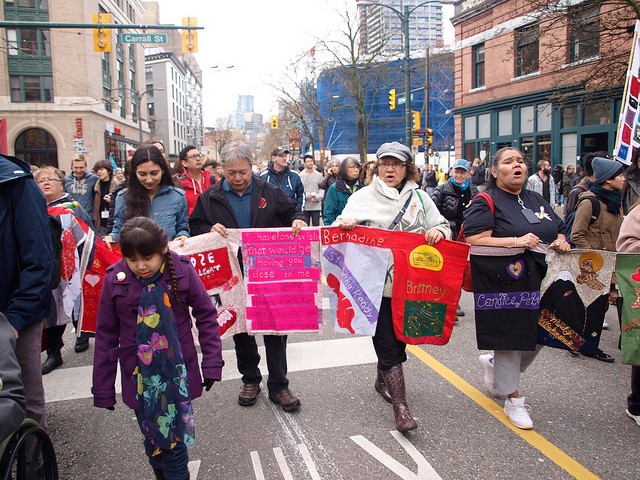 O Lord, you have enticed me, and I was enticed; you have overpowered me, and you have prevailed. I have become a laughingstock all day long; everyone mocks me. For whenever I speak, I must cry out, I must shout, "Violence and destruction!" For the word of the Lord has become for me a reproach and derision all day long. – Jeremiah 20:7-8
I
O unending Creator, centre of the circle,
in whom all things live, move, and have their being,
how long will the unjust flourish, the pipelines snake over sacred water?
How long before missing women find home and children return to arms of kin,
before the Downtown Eastside flows with bannock and blessing?
How long, O Lord?
Céline:
In the Downtown Eastside, where I work, 75 percent of those who come to the women's centre are Indigenous. Many are not from here–the territory of the Musqueam, Squamish, and Tsleil-Waututh–but from across Turtle Island: Cree, Métis, Dene, Gitxsan, Blackfoot, Wet'suwet'en, Anishinaabe. When land is taken away, trauma begets trauma, displacement and poverty compound with time. Here, in the Downtown Eastside, living palimpsest and epicentre of struggle, the Women's Memorial March was born. A small group of Indigenous women, eyes wet with weeping, proclaim their grief in public, refuse state-sanctioned silence.
Whenever I speak, I cry out.
This year, my first as a guardian, I wear a reflective vest and walk alongside the Elders' van. The women are old now, 27 years after the first march, slow-moving, frail in body and bone, but still burning with fire. At each stop they lay roses and honour the murdered and missing with ceremony. From their circle, smoke rises to the sky. Thousands follow the Elders past crumbling facades and condemned single room occupancies, luxury boutiques, high-end furniture stores. Three eagles spiral overhead. The drums sound.
Surely now, as we proclaim the women still being stolen–by the housing and fentanyl crises, by men, by prisons and police, by silence–you will turn your face towards those who grieve in public, who cry over sullied land and water, over every street corner.
I am weary of holding it in; indeed, I cannot.
II
God of hosts, are you not Creator of all that is good?
Do you not dwell here too, on Coast Salish territory,
where we so often acknowledge the land
with words alone
yet meet Indigenous death with silence?
Where families are born on the frontline,
births bruised by colonial blow,
where we say "unceded" but not "occupied"
for that would make us the occupiers:
How do we partake in our portion of rage?
Benjamin:
Tina Fontaine and Colten Boushie did not die on Coast Salish territory, where I currently live, but the grief of their death extends from prairie to ocean and back.
Unto you a child is born.
Creator called into the world a song so beautiful that the ocean roars with salt and joy. But the music is broken by those claiming to carry it. The music is plucked from the air and fished from the water, hammered into a blade, the trees cut down and burned. Birth becomes death. It was not always this way, and the children wish it had not been so. Two not-guilty verdicts, 13 days apart, two dead. These deaths join many.
The mothers have brought their young to the protest, the organizers' righteous fatigue and fury flow from the first memorial unto the next. The smell of burning sweetgrass in the shadow of the CBC building, drums awake with anger and memory.
Wailing in the morning, a battle cry at noon.
One of the signs reads "Canada is a serial killer of Indigenous people." Those who stand in front of the gathered crowd–some Settler, many Indigenous–are tired. They say as much. Tired of marching and gathering, tired of trying to get the people to listen, tired of Settlers turning their gaze elsewhere, tired of Canada trampling what was and remains good. They gather for future generations, for the children and water and trees. For the creatures that swim, fly, walk. They gather with and without hope.
This is the way of all prophets. They speak in languages that the powerful do not want to hear, sing songs that unsettle, take up space that Canada has taken away. They praise the Creator and lament the brokenness. They stand on the land and mourn. They walk with the land and pray. The music is taken back, the blades bent and stretched into drums, into protest, into forms once forbidden.
III
Does your subaltern Spirit hover now over holy waters,
waves restless with plastic, teeming with creation's hungry ghosts?
Hoarse-throated and aching, our voices join the land defenders.
Children of diaspora, we join the march with un-bound feet,
follow the drum beats and pillar of fire,
prepare food and songs for the exodus from empire.
Céline:
My grandmother, who lives in Hong Kong, prays with eyes clenched in a stream of Hokkien syllables, married my grandfather in a white wedding dress, a Western wedding. My grandfather once told me in his best English: do not lose your culture. But how much was already lost before I had hands to carry? How do I carry the weight of colonial Canadian history as a diasporic Christian Settler who has lost the names of my own ancestors? And so I form patterns of kinship. I sing the Women's Warrior Song beside Elders and matriarchs, accept this and other gifts: smoked salmon from a Gitxsan friend, who prays over me with a rumbly voice, moccasins from a Métis mother bonded to me through Benjamin's prairie past.
I am learning that Indigenous joy is a fire that draws others around its circle. I am learning that joy erupts as protest and survival, like it does in Jeremiah, like it does in gospel and jazz and powwow. That praise makes your body move. That exaltation is part of lament, is part of a grief that must keep grieving, breathing, sweating, resisting, creating, demanding.
IV
O God, O God, have you forsaken us?
Across your planet, floodwaters rise.
We tremble instead of heeding your voice,
watch your children cry out
without changing our ways.
When will the scales fall from our eyes?
When, Creator, will we see the world restored?
How deep our thorn, our curse, our cut:
How long, O Lord?
Benjamin:
When I move to the coast from Treaty 6 territory, I live in a room in a house I find on Craigslist. The basement is moldy and the house has rats, but I have a place to stay, somewhere safe to sleep and a view of trees over the street.
In fall, when the leaves are turning and the horse chestnuts have fallen, someone screams from the alley. My housemates and I run over from the porch.
The life of the needy, the hands of the wicked.
An Indigenous woman is on the ground, gathering what is left of her possessions, gathering what is left when so much has already been taken away. The attacker is far away, his shape blending in with the dark. She speaks to us briefly then walks down the alley, alone. Where are you, good Creator, when women are attacked in alleys?
When the trans and two-spirited are born into bodies already targeted? When land is stolen and treaties broken? When the families of Colten Boushie and Tina Fontaine weep? Where are you when the children are taken away?
Benjamin Hertwig lives on the untreatied territory of the Musqueam, Squamish and Tsleil-Waututh First Nations. He is the recipient of a National Magazine Award, and his debut poetry collection, Slow War, was a finalist for the Governor General's Award. He is a PhD Student at the University of British Columbia, working in post- 9/11 conflict studies.
Céline Chuang is a Settler of colour living on untreatied Coast Salish territories (Vancouver), descended from the migrant Chinese diaspora. She works in the Downtown Eastside, where Indigenous community matriarchs have taught her much about the power of ceremony and womanhood. Her writing has appeared in Ricepaper, Geez, The Volcano, and The Salt Collective.
This article first appeared as a chapter in Unsettling the Word: Biblical Experiments in Decolonization, Mennonite Church Canada, 2018, edited by Steve Heinrichs and illustrated by Jonathan Dyck. It is available for purchase at commonword.ca. A free study guide is also available at that site. Reprinted with permission.
Image: Jen Castro CC BY-NC 2.0
Dear reader, we welcome your response to this article or anything else you read in Geez magazine. Write to the Editor, Geez Magazine, 400 Edmonton Street, Winnipeg, Manitoba, R3B 2M2. Alternately, you can connect with us via social media through Twitter, Facebook, or Instagram.