News
40-foot inflatable missile protest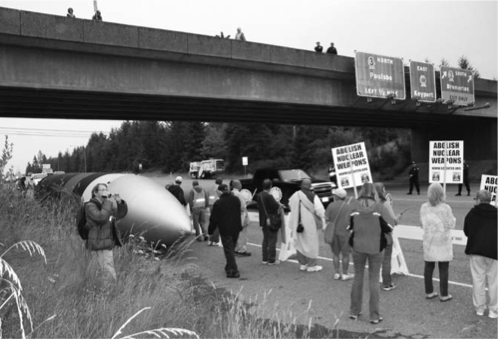 On August 8, Tom Rogers was arrested for trying to block the entrance to the U.S. Naval Base at Kitsap-Bangor in Washington state with a full-scale 40- foot inflatable Trident II (D-5) missile. Rogers, who once commanded a nuclear submarine himself, carried out this action in commemoration of the anniversaries of the atomic bombings of Hiroshima and Nagasaki.
Bangor has the largest concentration of operational nuclear weapons in on the west coast (according to Ground Zero for Nonviolent Action, gzcenter. org). Each of its eight submarines contains 24 trident missiles. Each missile carries up to eight independently targetable warheads. And each nuclear warhead has an explosive power between 100 – 475 kilotons, up to 32 times that of the Hiroshima bomb.
This was Rogers's first arrest. He told Geez that he believes civil disobedience is an effective means to accumulate support and get government attention.
"I want to raise the consciousness of my government, my neighbours, and ordinary people I don't even know to the dangers and costs of nuclear weapons," said Rogers. "I want to stimulate them to study the issue and take action. I want them to join in supporting nuclear weapons abolition at whatever level they are comfortable with. Then maybe, when the time is right, they can each take a small step out of their comfort zone and make their voices louder."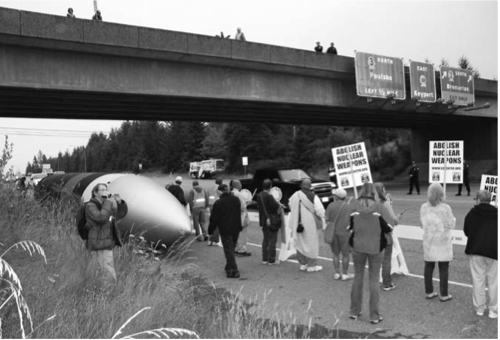 Along with Rogers, three other missile handlers belonging to the Ground Zero Centre for Nonviolent Action were arrested. They were processed at the scene and issued citations for being a "pedestrian on a roadway unlawfully," and were later released.
Betsy Lamb was one of those booked. In an interview with Geez, she said she follows the teaching of Jesuit priest John Dear, author of The Sacrament of Civil Disobedience, and believes "that civil disobedience is a sacrament, a means of receiving God's grace and strength." And, while she's under no illusions that her actions will immediately abolish nuclear weapons, she says there are other reasons to protest.
"I think many of us risk arrest and its consequences not so much because we expect miracles but because we have to be true to ourselves and the leading we sense within us to take that extra step," said Lamb. "I simply feel that I'm doing what I need to do to be authentic in what I believe Jesus calls and invites his followers to do, what he himself did in his many acts of civil and religious resistance/disobedience."–
Christopher Paetkau
Sources: gzcenter.org, psnukefree.blogspot.com