The Bechdel Test for women in movies
A tool to help dodge guy-centric cinema
The Bechdel Test, created by Allison Bechdel in her comic strip Dykes to Watch Out For, is a tool that helps gauge how women are represented in film. (Even though it's called the Bechdel Test, Bechdel credits Liz Wallace with the original test idea.)
To pass the Bechdel Test, the film must
1) have two female characters in it . . .
2) who talk to each other …
3) about something other than a man.
Anita Sarkeesian of Feminist Frequency cites the Bechdel Test as proof that the entire filmmaking industry is "built upon creating films and movies that cater to and are about men."
The website bechdeltest.com rates more than 2,679 movies according to these minimal requirements.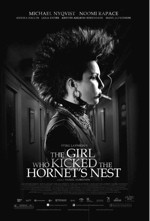 Films that pass:
The Girl who Kicked the Hornet's Nest
Anne of Green Gables
Buffy the Vampire Slayer
Mean Girls 1, Mean Girls 2
My Sister's Keeper
Films that fail:
Laura Croft: Tomb Raider
Shrek
Toy Story
Slumdog Millionaire
The Lord of the Rings
The Princess Bride
Harry Potter and the Goblet of Fire
See more at bechdeltest.com.
Sources: bechdeltest.com, dykestowatchoutfor.com, feministfrequency.com