Feature
Prison Library Books Down, Orders Go Up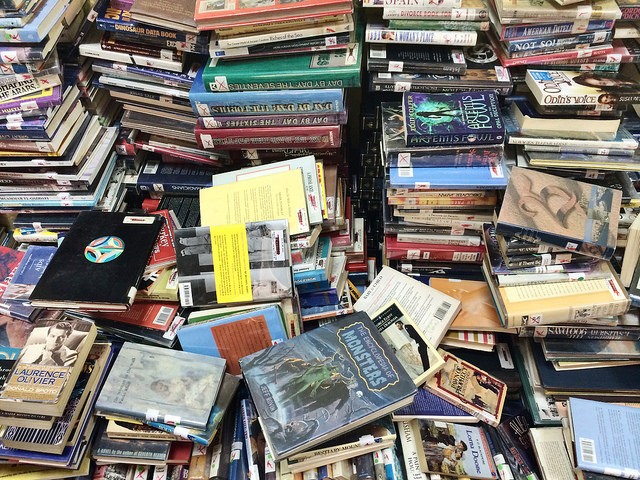 Thank you for this gift you are spreading of books. It is very appreciated. This prison does not really have a good book selection in the library or in the units. I will surely pass on the books when I'm done reading them. Thank you.
– Elaine
Elaine is incarcerated in the U.S. prison system and has severely limited access to meaningful reading material. She is one of more than 100,000 women in state and federal prisons across the United States.
Over the past 30 or 40 years, prisons have shifted their thinking about the place of books in correctional institutions, and not for the better.
"Starting in the 1980s . . . [p]rison officials began to characterize libraries as 'middle class institutions' that are 'unsuitable and unappreciated in prisons,'" writes Megan Sweeney, in a 2008 article, "Reading and reckoning in a woman's prison."
In 1974, one California prison library had over 36,000 books; 15 years later that collection had dropped to fewer than 9,000. In 2006, the U.S. Supreme Court allowed a Pennsylvania prison to ban secular magazines and newspapers from inmates in solitary confinement.
Many prisons' leisure libraries are funded with a portion of canteen funds, which is the money spent by inmates at vending machines, payphones, and the commissary. If the warden is not interested in supporting a leisure library, it might only consist of James Patterson novels or 500 copies of the Coin Collector's Handbook, reports Sweeney. In addition, it might only be open once a week.
So Elaine, along with thousands of other women inmates, participates in a books-by-mail program: Chicago Books to Women in Prison. Volunteers send books, three at a time, free of charge, and for keeps, to women who are incarcerated across the country.
The prisoners send their requests on pre-printed order forms or on scraps of paper. Sometimes a handful of women will share one piece of paper, probably to save on postage, with one woman often transcribing the others' requests; sometimes the requests are simple – "crossword puzzles," "cookbooks" – and other times more specific – "the sixth book from [a particular] series," "how to open a salon,""GED practice book." The volunteers then browse their little bookshop to find the best matches, write them a little note and package their paperback presents (hardcovers aren't allowed in jails – too dangerous).
Sometimes women will send thank-you letters, as Elaine did. Another writes, "I just want to thank you so very much for the books. You all are awesome. I want you to also know I got my GED and the books you sent will be used to help others. At the young age of 51, I got my GED." And yet another, "Thank you very much for all you do. My friend received some grammar books from Chicago Books and she hasn't put them down. You guys are making a difference."
Full disclosure: I'm one of the volunteers at Chicago Books to Women in Prison. We send out just over 3,000 books a year. Even though this current annual output is small in comparison to the number of women incarcerated, the letters of gratitude show that this project is helping to heal the brokenhearted, proclaim liberty to the captives, and open the prison to those who are bound. Someday this will be completely true, but for now, we send books.
MGPW lives in Chicago with her dog, her bike, and her drum kit. An incarcerated group that inspires her is Pussy Riot. You can find out more about Chicago Books to Women in Prison at chicagobwp.org