Review
A fun book on the devil
The Devil Wears Nada: Satan Exposed
by Tripp York (Cascade Books, 2011).
A book review by Kurt Armstrong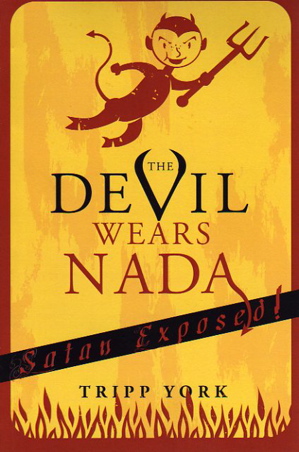 Here's my four-word summary: like Geez, but funny.
When The Devil Wears Nada landed in my mailbox, I assumed it was a book-length, self-indulgent joke: a sarcastic theology professor tries to prove the existence of Satan as a roundabout way to talk about God. You'd think I'd have learned by now that I can't judge the book by the cover. It's full to the brim with humor, for sure, but the underlying theme of the book is dead serious.
York is a Mennonite, studied at Duke (he blames some of his lippy, witty comments on time spent with his thesis advisor, who remains anonymous, but whose name he says rhymes with "Schmauerwas"), knows conservative evangelicalism from the inside and, now, from a distance, and has a political bent to nearly every joke he makes.
The gist of the book is that all of us in Western culture – including hellfire-and-brimstone preachers, Universalist-Unitarians (his visit with a U-U minister is hilarious – that section is subtitled, "The Boring-ality of Evil") exorcists, self-professed pagans, druids (even funnier than the visit with the U-U minister), shamans and Satanists – all are eagerly and willingly going along with Satan's games of consumerism, nationalism and vampiric corporate capitalism. Ominous and heavy stuff, yes, but it's also very, very funny.
York's politically charged, non-partisan Christianity has "Schmauerwas's" fingerprints all over it. "Speaking for myself," he writes, "if there is ever a moment I am tempted to believe in demonic possession, it is when Christians reflect back on a 'time when the United States was a godly nation,' when white Christians could call African Americans 'niggers' without fear of retribution, when women 'kept their place' in the house, and when a prominent white televangelist could discuss the 'Jewish problem' over prayer with a corrupt president. Yes, for many Christians, it was a regular golden age back when we had prayer in school."
Ok, so that makes him sound more angry than funny. He is both for sure, though it's the humour that comes through most clearly. It's William Stringfellow meets Steve Martin. A great book.