Reverend Billy roughed up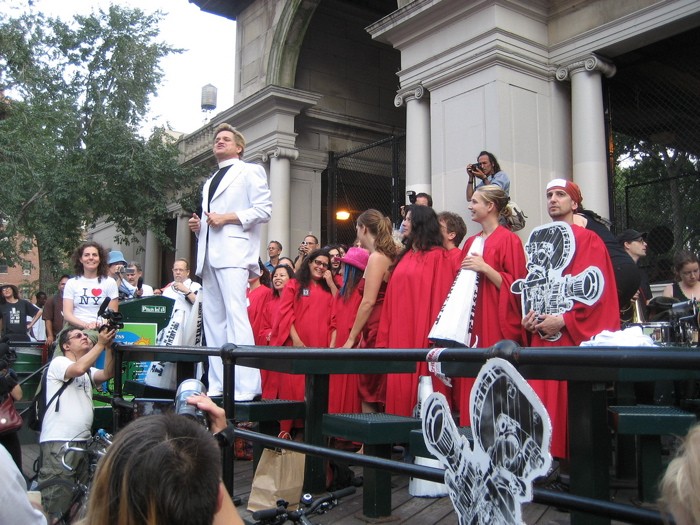 "This is a fossil-centric doorbuster sale!" shouted "Reverend" Billy Talen to a throng of a thousand waiting to take advantage of Black Friday deals at a New York City Macy's on November 23.
"Back away from the products, children. You don't have to do it," he continued while around a dozen members of the Stop Shopping Choir sang anti-consumerist songs in support behind him.
Then, when the NYPD started letting 100 people at a time into the store, a barricade broke and Talen got caught in the middle of the commotion. As Talen kept shouting for people to stop shopping through a giant megaphone, an NYPD police officer grabbed him by the back of his white evangelist-preacher suit and pulled him into the store. Inside, Talen says he was "roughed up" by a combination of New York police and "Blackwater-U.S.A.-looking guys" – the department store's private security.
In an email to Geez, Talen said he was hurt, but suffered no life-threatening injuries.
"They were highly trained," he wrote of his attackers. "They left me with no cuts. All bruises were off the face, under the clothes. I staggered away dazed, but I knew what I was getting into."
Talen added that the incident was a first after 10 years of protesting outside of Macy's on Harold Square.
"I've never been in a Macy's jail," he wrote. "I've been in a Disney jail, and a Marriott holding tank, and I've been in big box imprisonment in Switzerland and England."
Talen has not spoken either to the store or to police, and he doesn't plan to.
"There's no point to it," he wrote. "I don't do lawsuits. The communication is to the thousands of consumers pressing toward the door. This symbolic top shopping day of the year – the day after Thanksgiving – is the high holy day of the year for the ultimate fundamentalist Church of Big Retail, which controls our behaviour, our desires, our traffic patterns and personal choreography, our dreams, and how we raise our children. We are interrupting that ritual moment."
Macy's hasn't responded to Geez's inquiry into the matter.
A performance artist rather than an actual ordained minister, Billy Talen founded the Church of Stop Shopping in 1999 to protest the domination of consumerism and capitalism in North America.
Sources: revbilly.com, huffingtonpost.com, vimeo.com, youtube.com