Review
Bananeras: Women Transforming the Banana Unions of Latin America
Bananeras: Women Transforming the Banana Unions of Latin America
by Dana Frank
South End Press, 2005
A book review by Miriam Meinders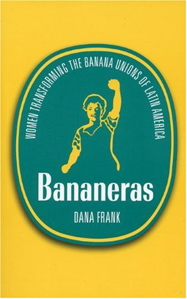 The women of Bananeras stand in banana packing warehouses for 10-12 hours at a time, six or seven days a week. They deal with sweat and fungicides, sexual harassment and long commutes, and then they start the second shift – housework, laundry, cooking and trying to spend some time with the children their extended families are raising for them.
But in the early 1990s, on Sundays, their one free day a week, some of them took three hours to attend workshops put on by the women's committee of a large banana union. This grassroots movement went on to transform the male-dominated banana unions of Latin America, and it continues to do so today.
Along the way it also brought about changes in the way the women dealt with gender roles at home. One woman summed up the motivation for mujeres bananeras (women banana workers) to attend such workshops: "I want to learn how to defend myself from whoever tries to oppress me, whether it's my husband, my union, or my boss."
This is not your standard Oprah inspiration tale. It is a story of these women and the hardships of their lives, their determination and their joie de vivre in the face of everything, but it is mostly about their successes. And their successes are shown to have a broad foundation in union organizing, the cross-pollination of other progressive movements and crucial funding and training from Northern allies (from unions in Denmark and the U.S., to NGOs in Britain and Germany, to a development agency of the Irish Catholic Church).
Theirs is not a story of heroic individualism, although they are clearly heroic. The mujeres bananeras are political organizers who collectively work for change in their society. That is something we could learn from them.
This book is a short, entertaining, lively read about the women who bring bananas to our breakfast tables and their struggle for better working conditions. That reading it brought tears to my eyes is just a bonus.