Sinner's Corner
Sinner's Corner: Pharisee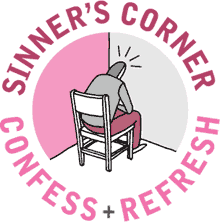 Sinner: Aaron Epp, Winnipeg, Manitoba
Sin: Although I consider myself to be a Christian, I have not practiced any spiritual disciplines over the last few years and my prayer life is virtually non-existent. This past November, I had a woman over to my apartment for dinner for our third date. Because I wanted to demonstrate to her that I'm a loving Christian – in addition to being a handsome, smart guy who can cook a delicious chicken parmesan – I prayed out loud for the meal before we started to eat.
I'm sure God appreciates most prayers, but I felt like I was full of crap since the purpose of the prayer wasn't really to thank God for the food, but rather, the purpose of the prayer was to impress upon this woman that I am a Man of God. I feel like if Jesus had been physically present, he would have upturned the dining room table and condemned me right then and there, leaving me covered in chicken parmesan and shame.
Mental gymnastics: Usually when I do pray, it's before a meal, so this incident wasn't that out of place. And, I don't think my motives were completely bad. While most of me wanted to impress this woman, a small part of me did want to thank God for the food. Also, since that date, I've started to pray more regularly.
Penance: Ahhh, Aaron. You've actually identified one of my favourite sins! The ol' "trying-to-look-better-than-I-actually- am" trick is one of which I'm most fond. I'm tempted to say it's second nature for me, but, it's actually sort of (ah) first nature. I do it all the time. Which is why I readily identify with anyone whose prayer life happens mostly in front of food.
And because I do know what a challenge it is to increase frequency of prayer, let me suggest instead a change of venue and topic: I invite you to pray – perhaps with said lady friend – at someplace other than a table with cheesy poultry. As you do, welcome the "small part" of you that did want to give thanks to God for the food, and see if you can't whip up something else for which you might be grateful. Bon appétit!
Margot Starbuck, Confessions Editor
Margot's most recent book is Permission Granted: And Other Thoughts on Living Graciously Among Sinners and Saints . See her other books, videos and commentary at margotstarbuck.com.
Send your confession to Margot at sins [at] geezmagazine [dot] org. Whether you regularly give motorists the finger when cycling, prefer Guns N' Roses to the musicians at church, or get lured in by the smell of deep-fried indulgence whenever you're near McDonald's, absolution is at hand.