Editorial
Opening words with our Guest Editors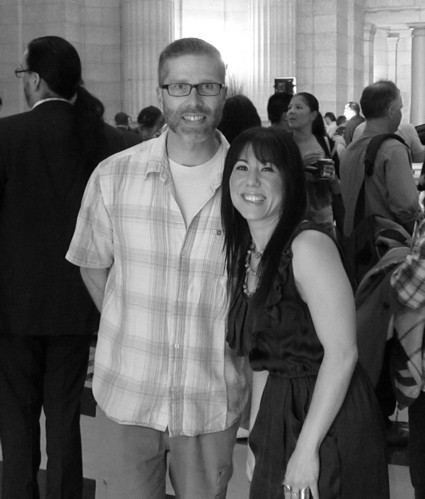 In the midst of production for this issue of Geez, editor Aiden Enns sat down with guest editors Leah Gazan and Steve Heinrichs to get a sense of what readers could expect from an issue on decolonization. What follows is a brief excerpt based on their conversation.
Aiden Enns: What does decolonization mean to you?
Leah Gazan: For me, decolonization is about reconnecting back to land and place and an identity that was defined prior to colonization. We very often talk about building communities through economic development but there's no greater poverty than poverty of the spirit. So I think decolonization means rejuvenating the spirit that's rooted in land and ceremony and identity and relationships and an understanding of everybody's role in that.
Steve Heinrichs: A simple metaphor many folks bring up is the guest-host relationship. It's a bit simplistic but it rings true. You have people coming into another family's home and occupying the space, with the original owners in the attic while the guests have the run of the house and dictate the rules.
Most of us non-native folks in Canada have not recognized our connection to host peoples and our obligation to honour our relationships with them. Decolonization is not just a fancy umbrella word for undoing sexism, undoing racism – the oppressions list. It is specifically talking about settler colonialism.
Patrick Wolfe says settler colonialism is not an event, it is a structure. It's not simply a history which we're trying to become aware of and lament and then move toward respectful relationships. It is a structure, so that means this relationship continues. It means fundamentally reworking our relationship into a place of mutuality and respect.
AE: A lot of non-indigenous people just want to jump in and do stuff, so they say, "What can we do to help?" How do you respond to those people?
LG: I'm not going to tell somebody, in their cultural context, with the gifts that they bring, how to care, what to say, how to show love. I think defining how that should be done is a very colonial behaviour.
Sometimes it's just about sitting and watching and not asking and just quietly learning. Because if you don't have that relationship, you can't be an ally. If you don't know anything about a person, then you can't care about them.
It's also important to understand yourself and your cultural bias so that when you encounter somebody of a different cultural experience you don't judge them against your lens. You can't be a good ally if you're not even aware of yourself and how you impose your perspective on others.
My father was non-indigenous and he did a lot of work in the indigenous community, but he didn't dictate. He said his work was to be an assistant to change not the director of change.
SH: Personally, I think it's about Christians finding a more humble way of being. A lot of us need to find that. Why do we see our knowledges and our spiritualities as being superior to indigenous knowledges and spiritualities? Why do we live off these myths and refuse to engage?
LG: There's this great Canadian myth that everybody's born equal with the same chance and all you have to do is work hard to get ahead – and that's not true. When we start questioning these myths, we also have to start questioning people we love and respect, and that is a painful exercise. So when we are talking about making amends, making better relationships, we also have to recognize it's a painful exercise for everybody involved because the hardest thing to do is to question your own values. That's heavy stuff.
SH: I pray that people who read this get the sense that there's some bad crap going on, but I also hope they get the sense that we're recovering relationships, we're finding whole and healthy ways of respecting and acknowledging each other.
The word decolonization sounds like a loss when it hits a lot of settler ears, but it's kind of like going carless and taking up your bike. It's inconvenient and all that, but actually there is a lot more joy that comes with it. It's not to say that it's not difficult, but the work is incredibly life giving. Becoming an ally, listening, and things like that – it's hearts actually being mended together; it's lives and communities finding restorative ways of being. That's good news to me.
Leah Gazan is a member of Wood Mountain Lakota Nation, located in Treaty 4 territory in Saskatchewan. A grassroots activist, Leah has been involved in a variety of social movements, including Idle No More, and is currently leading the #WeCare campaign for missing and murdered Indigenous women. Her passion is the advancement of Indigenous strength, self-determination, and self-sufficiency. Leah is presently teaching in the Faculty of Education at the University of Winnipeg where she helps students grapple with the realities of colonialism and the possibility of authentic, just relationships across cultures.
Steve Heinrichs is a white settler Christian who's spent years working as an activist, pastor, and advocate for justice alongside indigenous peoples. Based in Treaty 1, Steve is currently the director of indigenous-settler relations for Mennonite Church Canada and the editor of Buffalo Shout, Salmon Cry: Conversations on Creation, Land Justice, and Life Together .