Civil Disobedience
From Russia with Love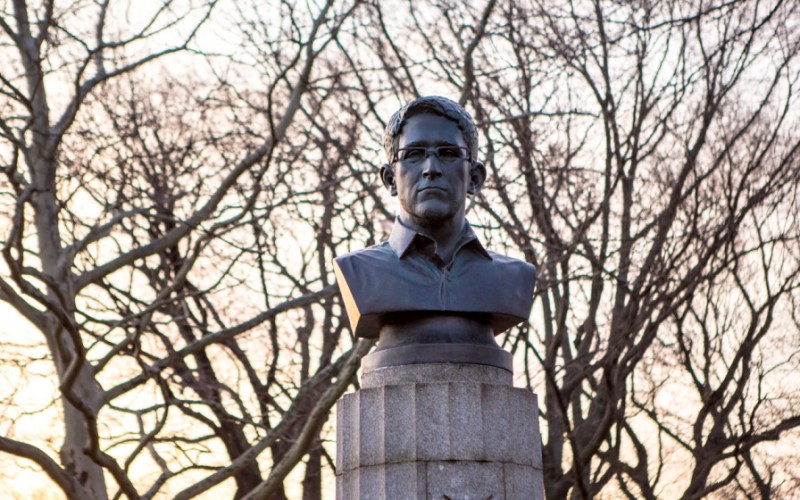 On April 6, Brooklyn's Fort Greene Park sprouted an unsanctioned sculpture: a four-foot bust of former National Security Agency contractor and whistleblower Edward Snowden.
A trio of anonymous artists clandestinely installed it atop a column in the park's Prison Ship Martyrs Monument at night. As to be expected, the bust was quickly covered over and then removed by the Parks Department later the same day. Composed of the sculpting material hydrocal and weighing 100 pounds, the bust took nearly six months and thousands of dollars to create.
The sculptor and his New York accomplices are still unknown, although the NYPD are seeking clues to their identity. According to the artist's statement about the piece, the Fort Greene Park location was chosen specifically for its historical context: "Fort Greene's Prison Ship Martyrs' Monument is a memorial to American POWs who lost their lives during the Revolutionary War. We have updated this monument to highlight those who sacrifice their safety in the fight against modern-day tyrannies. It would be a dishonour to those memorialized here to not laud those who protect the ideals they fought for, as Edward Snowden has by bringing the NSA's 4th-Amendment-violating surveillance programs to light. All too often, figures who strive to uphold these ideals have been cast as criminals rather than in bronze."
In an interview with ANIMALNewYork (which agreed not to release their names), one of the conspirators added that "if this thing gets taken down right away we'll certainly be disappointed, but we think it'll be worth it, thanks to the internet. The fact that a risk was taken, the fact that an image comes out of that event that could be passed around, can never be undone. So you can rip the statue out, but you can't erase the fact that it happened, and that people are sharing it, and that could inspire people to speak up in their own creative ways."
While some residents viewed the illicit sculpture as the desecration of the existing monument, members of the Occupy-affiliated Illuminator Art Collective responded to the bust's removal by replacing it with a holographic image the next day. The original work is still in police custody, and its return is being sought by the artists for future displays. The original work has since been released to the artists and the bust will be displayed in New York City art galleries.