The Rainbow Page
LGBT Christians Lend Unique Voice…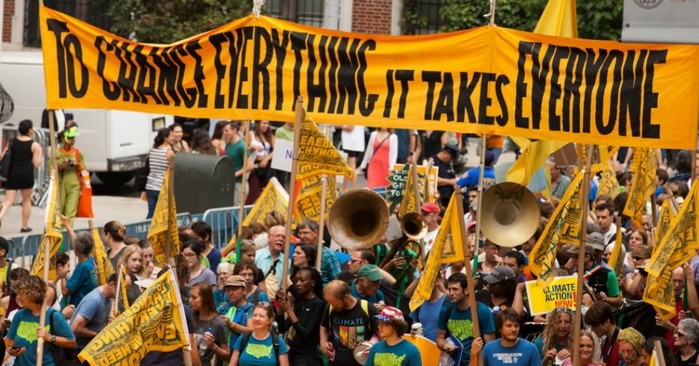 Over 300,000 people participated in the People's Climate March in New York City on Sunday, Sept. 21, two days before the UN climate change summit. And within the crowds, an LGBT-affirming religious contingent was making its voice heard.
Episcopalians, Quakers, Buddhists, and Congregationalists brushed up against Hindu and Jewish groups as they waited their turn to walk the streets. A police helicopter circled overhead; later, barricades and officers would line the streets to prevent unexpected movement. Within this pre-march pocket of Manhattan, though, there was just unbridled enthusiasm.
Claire Hindricks, 14, spent two days on the train from Nebraska with her mother in order to be here. "The sheer number of people out here, that is a message," she said. "When I look back, I'll know I was here and I did what I could."
In New York activist circles, the People's Climate March has been subject to some serious criticism. Among the concerns: the march, organized by nonprofit "clicktivist" group Aavaz.com, made no specific demands. It was scheduled on a Sunday, when few financiers would be affected by any increase in traffic. And, bending to police pressure, organizers planned a route that turned  toward the city's sparsely populated west end, instead of confronting the UN in the city's east.
But Christians at the event saw things a bit differently.
"This movement isn't perfect, but it is very large," said Drew Peterson-Roach, 33, who liaised between event organizers and his church, Trinity Wall Street, which he attends with his partner Dieter Klipstein. "We can overcome these sectarian tendencies and unite to do this one thing."
That "one thing" is something which Nancy Wilson, reverend and global moderator of the Metropolitan Community Church, thinks LGBT Christians have a unique responsibility to participate in: climate activism.
"We've changed public opinion a lot in the past 40 years," said Wilson, 64. "And this is a public opinion struggle."
The gay community's experience seeing the HIV/AIDS crisis ignored by policymakers – and learning how to fight back – means that many queer people have the perseverance the environmental movement now needs, said Wilson. "And the same people who hate us are climate change deniers," she added. "So that tells you something."
Klipstein, on the other hand, saw his relationship between being a gay churchgoer and being at the march a little more simply: as a gay person, he's first and foremost a person.
"I happen to go to church. And I have these concerns that everyone who cares about the environment – or their fellow person – should."
At Charity Fundraiser, March Sparks Debate
Only in New York.
On the patio of Aureole, well-heeled professionals sipped rosé and leaned over the metal barricade separating them from climate protesters on the sidewalk.
The tony restaurant just steps from Times Square was hosting a fundraiser for Meals on Wheels. Some tickets had been $250. For these attendees watching the melee, the signs and slogans provoked a conversation.
Joe Loscialo, 44, was skeptical. "I don't think a lot of them are educating themselves about the issues," he said. Loscialo pointed to the thousands of jobs created by the Keystone pipeline, and the birds that are killed by solar and wind power. "I think they're just marching for the sake of marching."
But Christine Kuppenbacher, a 39-year-old gym teacher, was more receptive.
"I do find it impressive that they've gotten permission to march on 42nd Street," she said.
Mentioning a desire to protect the earth for future generations, Kuppenbacher paused. "I recycle… I try to buy organic," she said. "I do what I can."