Civil Disobedience
A Striking Demand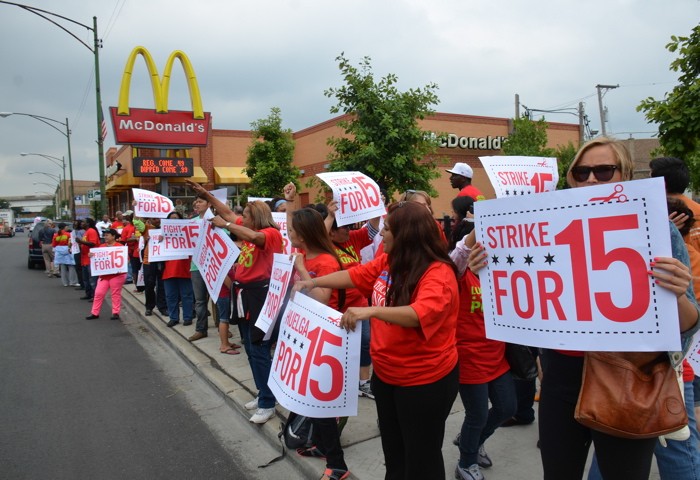 The campaign to raise the minimum wage in the United States hit a new high on September 4.
On that day, hundreds of low-wage workers across the country walked off their jobs and onto the streets to demand a $15-an-hour minimum wage, health benefits, and the right to unionize. Some 430 demonstrators were arrested in 32 different cities, including Boston, Las Vegas, Houston, and New York City.
In addition to serving as the largest of the Fight For 15 campaign since its birth in 2012, it's also noteworthy as the first time the strikes included other service industry workers, with janitors and home healthcare workers joining the core of fast food employees, reported The Guardian. It was also the first time the campaign used civil disobedience tactics, such as sit-ins and traffic obstruction, to make their point.
One such traffic obstruction was Gwen Moore, who represents Wisconsin's fourth congressional district. She was arrested along with 26 fast-food workers for sitting in the northbound lane of a Milwaukee road, according to The Journal Sentinel.
"I've read their letters, I've heard their calls, and I've listened to their stories," said Moore after the arrest. "I understand their struggle, but more importantly, I see their drive to fight for a future that is equal to their talents and worthy of their dreams."
U.S. President Barack Obama has already proposed a raise in the national minimum wage to $10.10 from the current amount of $7.25, a move supported in a signed letter by over 600 economists in January earlier this year.
The National Restaurant Association released a statement asserting that "The activities [on September 4] have proven to be orchestrated union PR events where the vast majority of participants are activists and paid demonstrators. This is nothing more than labor groups' self-interested attempts to boost their dwindling membership by targeting restaurant employees."
One of the driving forces behind the Fight For 15 campaign is the Service Employees International Union. Those involved in the campaign have denied using "paid demonstrators" for the September strikes.