Google empowers and demotes us
Eric E. Schmidt, executive chairperson of Google, is a missionary that gives you free stuff so that you will give your life over to Google.
He's on the record for claiming his company is a "moral force" whose goal is to organize the entire world's data and make it useful. In 2013 he published a book called The New Digital Age: Reshaping the Future of People, Nations, and Business, which Julian Assange called a "blueprint for technological imperialism."
Pulitzer finalist Nicholas Carr writes about the origins of this imperialism in his book The Shallows: What the Internet is Doing to Our Brains. In his chapter, "The Church of Google," Carr explains that if efficiency were a gospel, Google would be its high church. This gospel has its origins with industrialist Frederick Taylor, who quantified every possible movement in factories. He said, in his 1911 book, The Principles of Scientific Management: "In the past man [sic] has been first but in the future the system must be first."
Google, like Taylor, wishes to redeem humanity from the slowness of everyday thinking. Sergey Brin and Larry Page, the founders of Google, view the brain as a computer, and thus an inferior version of a more powerful, and less prone to error, artificial intelligence.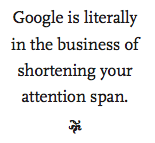 It wouldn't seem a bad thing then, to make billions by helping you click faster. Since Google's revenue goes up for every page you click and every ad you see, Carr argues that Google is literally in the business of shortening your attention span. Free services and information make us want to spend more time on the internet, which increases revenue and personal data.
Efficiency is driven by data. But what about the hard-won qualities of reflection, contemplation, and the slow process of creating personal meaning which cannot be quantified? Carr argues that by undermining our ability to build strong interior lives, Google is reversing the technological advance of the good old-fashioned book.
What worries Carr are the lengths to which Google is willing to go to carry forth their "moral" project. One example is Google Books, which infringed upon copyright in the name of access to information. To Google, literature is simply a mass of data to be mined. Human beings are just another source of data.
Andrew Siebert is a high school Psychology teacher in Winnipeg and does not own a cell phone.