Feminist fails, can't live without 'em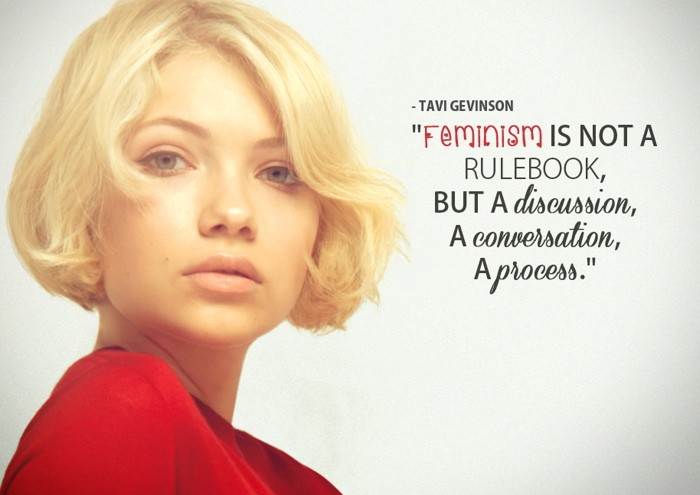 Failure is not something I often write about.
Sure, there are "epic fails" – fails so big that they become turning points and you have no choice but to learn from them. Those are easier to write about, especially after you've resurfaced in some triumphant way. But what about those moments each day when we fail to live up to our own ideals or standards? These are less likely to get written down and immortalized.
Since I decided to take on the moniker "feminist" some eight years ago, I have learned the lesson that no one is completely consistent. My days are truly ironic, full of mini fails. Some examples:
I've been in a heated discussion about mass media's distorted portrayal of body image and then, later in the day, thumbed through [with interest?] a fashion or gossip magazine peddling this very same propaganda.
Or, I've waxed poetic about a woman's right to choose however she wants to engage in the world (with children or without; with a job outside the home or not; with a partner or not), and still resented the amount of time and energy it takes to make my own egalitarian marriage and parenting arrangement work (perhaps in an epic feminist fail that would send chills up Betty Friedan's spine, I sometimes wax nostalgic about the 1950s).
Or, there are days when I've spent time reading gender and queer theory and then rushed off to the theatre to catch the latest stereotypical, heteronormative chick flick (which also just happens to be truly entertaining).

In some ways, you might consider these all "feminist fails" – places and times where I fall short of living into my feminist ideals. But most movements are woefully inconsistent. For instance, while decrying the need for justice on behalf of all women, white feminists failed to recognize that not all women operate in the world similarly – we white women often still carry power and privilege that makes life different for us than for our sisters of colour. This failure means that, in pursuit of gender equality, white women have failed (and fail) to realize that we were recreating other systems of domination. (See the poet and womanist Audre Lorde's famous exchange with feminist scholar Mary Daly, for example.) In the Anabaptist denomination I'm a part of, we preach about Jesus's emphasis on love, justice, and nonviolence, and at the same time gloss over the ways our own theology and structure have masked violence and abuses of power.
Where does this leave us? I'm not saying we should stop striving for consistency or trying to live out our ideals. We need constant vigilance in unpacking and undoing the system-wide failures around us. But we should also admit that we also cannot avoid inconsistency; it is the messy part of an imperfect world.
Being a feminist is all about having the opportunity to make all sorts of choices and test all sorts of waters. It seems only right that I should be in dialogue with all sorts of sources and narratives, whether they are "cleanly feminist" or not. And, frankly, sometimes, your brain just needs a break.
Hannah Heinzekehr lives and works in Newton, Kansas, with her husband, Justin, and her toddler daughter, Elena. She blogs about the intersections between feminism, Mennonite identity and theology at her blog, The Femonite.
Image: Melissa Brewer