Feature
Two-Spirit Identity and Faith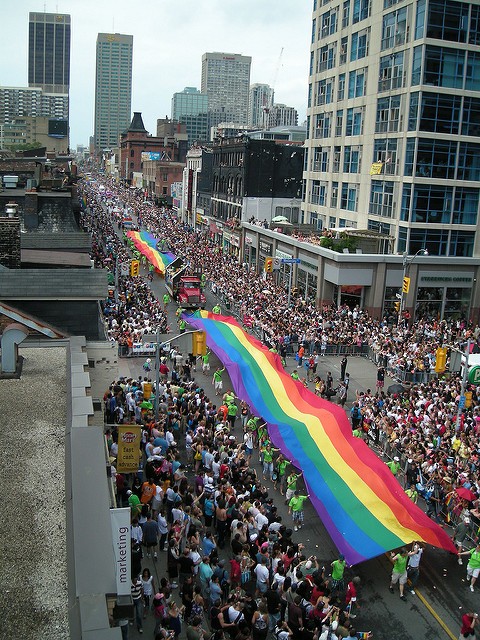 Chantal Fiola, an assistant professor in the University of Winnipeg's urban and inner-city studies department, spoke with Geez managing editor Alana Trachenko about two-spiritedness and spirituality.
Chantal is Red River Métis, first-degree Midewiwin, and identifies as queer and two-spirit. In addition to advocating for LGBTQ2S and queer POC rights and communities, Fiola is the author of Rekindling the Sacred Fire: Métis Ancestry and Anishinaabe Spirituality (2015). What follows is an edited account of her conversation with Alana Trachenko.
Geez: When did you realize that you identify as two-spirit?
Fiola: I'd say probably six years ago. I think I've always liked girls, but it kind of became a conscious thing when I was 13 to 15.
I grew up Roman Catholic, I was really heavily into the church, but around that time I started having questions, and I didn't really feel nurtured in the church. So I walked away, and eventually I found ceremonies. There I felt like my identity was being nurtured and I was hungry for more of those cultural and spiritual teachings.
Geez: What does it mean to you to identify as two-spirit?
Fiola: Two-spirit is kind of an umbrella term that reminds us of Indigenous understandings of gender and sexuality. Most Indigenous cultures, before contact, had up to five different genders, and this was just a normal part of society.
Christian folks have Genesis and the Bible, Indigenous folks also have Creation Stories. They don't use the word two-spirit, but two-spirit folks are in the Midewiwin Anishinaabe Creation Story, and we're called Naawenaangweyaabeg.
The way my friend (who is the chief of a Midewiwin lodge in Shoal Lake) explained it was that it translates to something roughly like those in the centre who keep others from wandering. He talked about how there have been times in human history where people have forgotten Creator's original instructions for how to live a good life, and that there were beings that were unlike the others, because they had a capacity to love in a way that others couldn't.
Geez: Do you find that your identity as two-spirit comes into anything you do with your students?
Fiola: I bring it with me everywhere I go. I come out on the first day in every course I teach.
When I was doing my undergrad, I was in women's studies, and I had out professors and it was so good for my self esteem. And I feel like now that I'm in a position like this, it's part of my responsibility to help people in their development, and recognize that it is a gift.
That's another really important piece of what two-spirit means–it's a gift given by Creator, which means we have specific responsibilities.
Geez: What do we need to know or be more aware of when it comes to two-spirit folks?
Fiola: I think there are some misunderstandings about what two-spirit means. I don't know where the idea came from that it means you have two-spirits or a male and female spirit. We have to watch thinking in those ways so it doesn't reproduce gender binaries or sexuality binaries.
Geez: How have things changed for identity expression since you were young?
Fiola: I think there's more of an openness, a curiosity, and willingness to learn.
The town I grew up in was so small that I had to bus an hour to go to school. There was the school, the bingo hall, and a line of busses. And the guys on the hockey team took a rock and scraped in huge letters on the building, "Shant is a dyke." So the whole school had to walk by to get to the busses; I wasn't out at the time.
They spat at us when we walked to the busses so it was horrible.
But young people, at least in my classroom, even the folks coming from main campus, are progressive thinkers and activists.
Geez: Is spirituality still a big part of your life today?
Fiola: Yes, spirituality is a huge part of my life. When I left the church, I entered what the Anishinaabe called the fast life–a normal part of teenage development, stuff that pulls you away from a good life, so drugs, alcohol, things that weren't good for my spirit.
My friend said, "Hollow Water First Nations is having a fast. Are you interested in coming? If you want to come, you have to be sober for four days before we get there, and while we're there."
So I made the commitment and went. And I ended up fasting and asked for help to stay away from drugs and alcohol. So on August 5, I will be clean and sober for 10 years.
Every day I start my day with a tobacco ceremony and a water ceremony, and it helps me remember what's important in life.
Image: Neal Jennings CC BY-NC 2.0
Dear reader, we welcome your response to this article or anything else you read in Geez magazine. Write to the Editor, Geez Magazine, 400 Edmonton Street, Winnipeg, Manitoba, R3B 2M2. Alternately, you can connect with us via social media through Twitter, Facebook, or Instagram.