Reinventing the wheel

I'm sure some Geez readers might've asked themselves this question when they saw the issue in their mailbox, picked it up at their favourite local Geez distributor, or saw a discarded copy on a friend's coffee table.
You may ask: What's so special about disability? Aren't disabled people all the same? What can disability teach me – an able-bodied person who's an ally of the differently embodied experience? I thank my lucky stars everyday for my good health and the health of the people I love most. Is that so wrong?
Click here to listen to an audio version of this article.
Well, my friend, you're in for a real treat. As the editor for this issue, I found myself ruminating on the same questions.
Historically, talking about disability has often happened in one of two ways: either the person with a disability has been extolled as a larger-than-life entity who has triumphed over bodily suffering in order to live as normal a life as possible, or they have been treated as a marginalized individual whose life is a relative curiosity. However, neither of these images encourages that person to pursue a more inclusive and socially beneficial life within their community. After all, ramps, curb cuts and elevators alone do not make a good life for a disabled person.
I have a comic by John Lytle taped to my desk at home (see above). To me it illustrates the complicated reality that the wheelchair (or that which makes a person different) isn't usually the problem. Rather, the reaction to the wheelchair (or that which makes a person different) is the real kernel of the problem.
To illustrate, I recall a serene summer day a few years back at the Winnipeg Folk Festival. My friend and I (both of us wheelchair users) were trudging along the grassy field between an out-of-the-way stage and the food vendors when we heard someone yell over to us, "Now that's what I need, a wheelchair!" Such a remark reminded me that many people tend to see a wheelchair or some other mark of difference as a mere convenience – or even an excuse – rather than a lifestyle. These comments, however well-intentioned, are made from the perspective that the person with a disability has access to advantageous tools that others are not given. However, what people don't often understand is that those tools do not give the people who use them a leg up on others; they only level the playing field.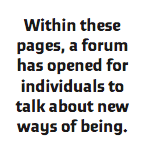 Another example: I was at the bus stop on a rainy weekday when a nice, older gentleman decided to chat with me. As is the tendency among most people who encounter a person with a disability, he wanted to figure me out (for his benefit, of course). He asked, "What happened?" Knowing what he was after, I told him. Then he paused and said, "My brother-in-law had what you did. He died. What you're going through, though, is much, much worse."
Such a fate-worse-than-death way of seeing is not only prevalent but lies at the core of how people with disabilities are seen in society today. The reactions from others often still fall somewhere along the line of I don't know how you live the life you do, although I hate to say it, I'm glad I'm not living it myself.
Fortunately, within these pages, a forum has opened for individuals to talk about new ways of being, thinking, doing and, ultimately, living. Navigating these new ways has essentially become the modus operandi of disabled individuals. More often that not, this is viewed as atypical or abnormal behaviour within an ableist society that assumes the only way to survive is to walk, talk, see, hear and think like the able-bodied norm.
The response to a Geez issue tackling such rough-and-tumble (and usually overlooked) topics has been overwhelming; it speaks to the lack of an available forum. After all, it is only when members at every level of society come to value the insights within these pages and others like them that persons with disabilities will shed their lower-level status and be seen not as a curiosity or a way to inspire others to live a more appreciative able-bodied life but as a way of informing the human experience.
Kate Grisim is a student in the University of Manitoba's disability studies master's program and a researcher/marker/teaching assistant/invigilator at the University of Winnipeg. She loves surprising people with how "okay" she is with her disability.