The House Where I Live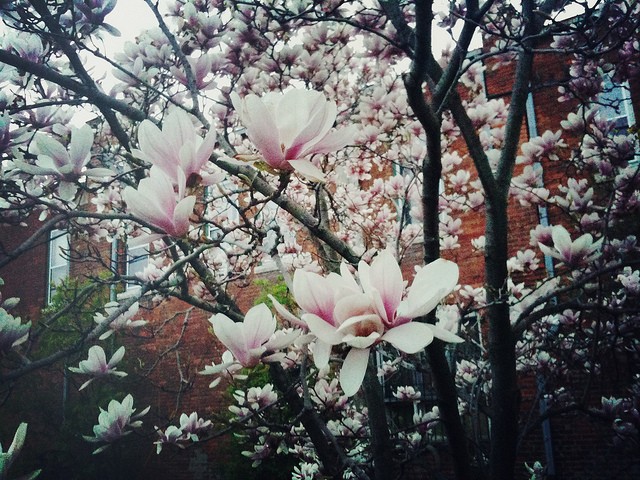 Pink, blossoming snowballs covered the apricot trees, as Erinn and I stood looking up at this house.
The large yard was filled with grapevines and cherry trees. There was room for chickens! I remember walking past this house as a child and seeing the yard draped in lilacs and roses. Now, after being home to six ferocious bulldogs, the yard was covered in dirt, but I could imagine flowers growing here once more.
Just a few months before we got married, we bought this home and moved out of the community house and landed six houses down the street. It was 2011, and we bought this two-flat house from Fannie Mae Mortgage Company for $11,000.
Just four years earlier in 2007, our neighbour had bought this house for $94,000. He had also bought the house across the street for the same price. Under the crushing weight of the mortgages, he had walked away from the house and disappeared a couple years earlier.
The neighbourhood had boarded up the house trying to keep it from being stripped, but that didn't stop people looking to make some money. The radiators were all stolen. Fannie Mae didn't care. They rarely came into the city to put locks on doors or secure their properties. The house across the street eventually went up in flames despite people trying to buy it–the bank said it wasn't worth it for them to sell it. In fact, if the house burned down, they would collect the insurance money on the $94,000, which would be more profitable for them than trying to sell it for maybe $6,000.
I stood outside in the middle of the night watching it burn and listening to one of the firefighters tell me his guess is that it is the banks setting these houses on fire. The city was being devastated by the housing bubble collapse and banks were once again making money while neighbourhoods felt the destruction.
We bought the house for $83,000 less than what our neighbour Wilson paid. That is wealth redistribution. But not for those who needed it. Wilson was never offered that deal to stay in his home. Instead, Erinn and I, with all our race and social location privilege, benefited from the housing crisis. Wealth redistribution happens all the time. It just almost always benefits the wealthy.
Today, the fruit trees are larger. There is a tree house, a swing set, and the yard is a mess with bikes and toys. It is the place we are raising our family and growing our roots. But I still wonder what happened to Wilson every time we get a piece of mail for him. If we ever sold our house, we would sell it at a profit, as investors are circling this city like vultures and gentrification spreads like fire.
What does this mean for Erinn and me? What is our responsibility within it? How can we commit to working against foreclosures and for ensuring affordable housing in Detroit? We continue to love the earth where our home rests, try to keep our eyes open to the movement of money around us, and remember Wilson and all those who have faced this predatory economic system as we fight for justice.
Lydia Wylie-Kellermann lives in Detroit, Michigan, with her partner and two children. She is a member of the Catholic Worker community and collects stories for that section in Geez magazine.
Image: Alan Fangor CC BY-NC-ND 2.0
Dear reader, we welcome your response to this article or anything else you read in Geez magazine. Write to the Editor, Geez Magazine, 400 Edmonton Street, Winnipeg, Manitoba, R3B 2M2. Alternately, you can connect with us via social media through Twitter, Facebook, or Instagram.