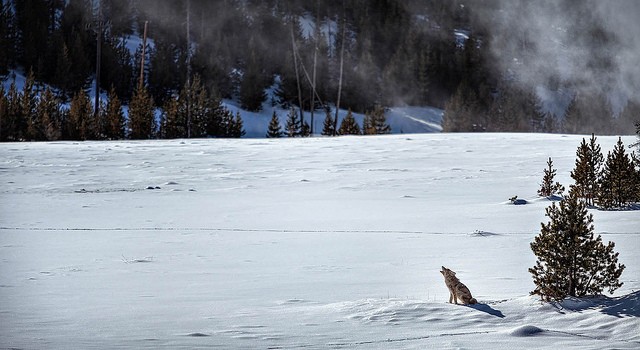 asleep in my hotel, i heard a coyote howl
a mournful wail that trailed through the dark
as though she had lost her pack,
over and over she raised a searching call.
you know a coyote when you live in the small places
away from everything else . . .
but i didn't know they howled at night
in the wet streets of downtown Winnipeg.
waking, i stepped naked to the cold balcony
where her wails sought me out,
as if sadness rang like blood through her heart–
and i knew this forlorn voice was no coyote.
maybe off and away another great howl searched her out,
calling her back to safety, to family, to the chorus,
back from her sad soliloquy
in the parking lot across from Holiday Towers.
but i – i left her howling nine floors down,
closed the balcony doors on the screams
and back in my warm room, i called the police,
then returned to my soft bed at the Delta.
Peter Cantelon was born in Guelph, Ontario. He started writing poetry at 17 (and hasn't stopped). Various career choices brought him to live in Ottawa, Florida, Toronto, and eventually Morden, Manitoba, where he now resides, finding inspiration in the day to day.
Image: Scott Kublin CC BY-NC-ND 2.0
Dear reader, we welcome your response to this article or anything else you read in Geez magazine. Write to the Editor, Geez Magazine, 400 Edmonton Street, Winnipeg, Manitoba, R3B 2M2. Alternately, you can connect with us via social media through Twitter, Facebook, or Instagram.