Review
The Devil and Pierre Gernet
The Devil and Pierre Gernet
by David Bentley Hart
(Eerdmans, 2012)
A book review by Kurt Armstrong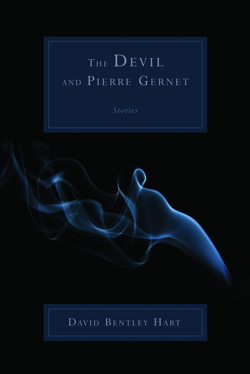 Known for his fiercely intelligent and lucid books of theology, philosophy and cultural criticism, author David Bentley Hart, who proved he could match the likes of the late Christopher Hitchens blow for blow, has turned his hand to fiction. The Devil and Pierre Gernet, Hart's first book of stories, is a collection of intense, cerebral tales, overflowing with his characteristic rich, exquisite language.
The Christian storyteller who can mind his or her craft without slipping into either sentimentalism or bombastic religious propaganda is a rare species, but in this little book of stories Hart does so brilliantly. The narrator of "A Voice From The Emerald World" looks, talks and acts like a snide intellectual from a Don DeLillo novel, a retired English professor with a "lovingly cultivated cynicism." He seems, at first, too self-consciously intellectual to genuinely feel anything, but gradually traces stark circles around a tragedy that reveals he has felt – and lost – nearly everything. The meditative story "The Ivory Gate" recounts elaborate, summoning dreams, thick with heady philosophy, more sensual and richly detailed than most people's waking life. "The Other," which closes the collection, is exactly the curious sort of character study you'd expect to find in a Raymond Carver collection, but with more overt existential clout. The title story, a drawn-out conversation between a medium-rank devil and his drinking companion, is as chilling and weighty as Dostoyevsky's "The Grand Inquisitor."
Discovering the short stories of Flannery O'Connor was, for me, a pivotal moment: my first exposure to a brilliant, unflinching storyteller with a thoroughly Christian imagination. O'Connor always insisted that her Catholicism gave her a deeper and clearer vision than non-religious writers struggling to document and diagnose the human condition, yet her stories never come off as propaganda. She never sacrificed her art for her Christian beliefs, and she never softened orthodox Christianity to make a story more interesting. She was a genius.
It is rare to come across fiction as thunderous as O'Connor's, but Hart's stories come pretty close. His scope is epic and ambitious: he wants to reorient our basic understanding of the cosmos and, more importantly, our place within it. In a style that recalls Kafka's parables, Hart's stories show us that the universe is a terrible, mysterious place, and that the metaphysical weight of our daily decisions is extraordinary. These stories are bursting with philosophy and theology, and Hart himself calls it "the only book I have written with which I am truly satisfied." That he can theologize without sacrificing exceptional storytelling makes me hopeful that he has a lot more stories left to tell.