Review
When I Was a Child I Read Books
When I Was a Child I Read Books
by Marilynne Robinson
(Farrar, Straus, and Giroux, 2012)
A book review by Maria Bowler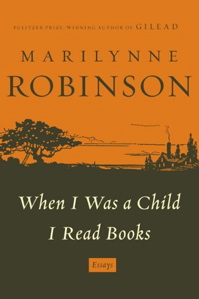 "I have spent my life watching, not to see beyond the world, merely to see, great mystery, what is plainly before my eyes," writes Marilynne Robinson in her 2005 book, The Death of Adam. "With all respect to heaven, the scene of the miracle is here, among us." In When I Was a Child I Read Books, Robinson continues that project of seeing, and shows us what she means, infusing the mystical into the political and the everyday.
In her newest book of essays, Robinson sets out to address the state of U.S. discourse, drawing on resources deep and wide – from Darwin to Rabbinic law to Edgar Allan Poe. It's nothing new to think that this particular discourse is in need of serious repair, but this is not a book by Al Franken or Ann Coulter, a partisan argument or even a plea for peace and getting along. This is a thoughtful and rigorous set of essays with poetic implications far wider than the borders of the United States.
In one essay, "Imagination and Community," she hints at why she would want to undertake such a project, and why she might care about "America" in the first place: "It is simply not possible to act in good faith toward people one does not respect, or to entertain hopes for them that are appropriate for their gifts." For those of us who want to hope for better, or behave authentically, or do justice to our neighbours, it might ring true. It's a particularly loaded statement considering Robinson has seated herself on contested ground, in the middle of the debates about the public square: "religious" vs. "secular," "progressive" vs. "conservative."
If respect is a requirement for acting in good faith, how can we muster it? Robinson's approach, perhaps appropriate to a fiction writer, is through the imagination. She attempts to chip away at the fences of our cultural imagination by plainly reminding us of our lineage of thought ("plainly" not in tone – her tone is rather elegant – but in her treatment of the facts). She has gone to the primary sources – Maimonides, Calvin, Wycliffe, and many more arcane and less popular thinkers.
For Robinson, politics is inseparable from history, philosophy and theology because, as she writes in "The Human Spirit and the Good Society," "All thinking about the good society, what is to be wished for in the way of life in community, necessarily depends on assumptions about human nature."
Contemporary U.S. thought is a tangled ball of wires, and Robinson thoughtfully picks through the strands and lays them out for us to see. Her arguments may not be obvious at first, but that's because they aren't overtly partisan. Our ears are trained to hear the old party lines, and Robinson is clear about her intellectual debt to theology rather than political ideology. This in itself may raise eyebrows for those who like their thinkers thoroughly secular.
These essays are relevant for both the sympathetic and the unsympathetic when it comes to U.S. history and Christianity, since we commonly conflate these ideas, either when resisting or cooperating with them, and it would serve us well to get to know them better. And even if the reader remains unconvinced, we are still left with the sly humour Robinson weaves into her arguments, and her literary flourishes – stunning sentences that make you as least want to imagine.